If you can't put in eye drops without someone holding you down and the promise of ice cream afterward, then perhaps you shouldn't follow Sofie Peterson on Instagram. The Danish 18-year-old makeup artist has created "bling waterlining," a look that is both cringey and chic. While we can't deny the teen's impressive artistry, the thought of wearing this trend ourselves reminds us of our least favorite movie makeover: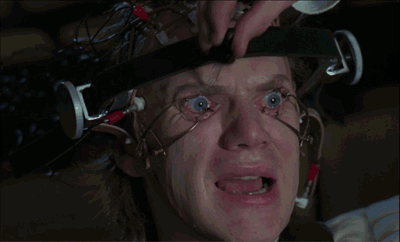 Peterson told Allure that she stumbled upon the trend while looking to get out of a creative rut. She needed a way to recycle an old chain necklace and noticed that "the size and thickness were made for [her] waterline." When she placed the necklace on with surgeon-like precision (for real, if the makeup artist thing doesn't work out, Peterson would probably have a bright future as an eye doctor), the trend was born.
While Peterson knows the look isn't for everyone (and not one to re-create at home!), she doesn't want controversy to be the focal point of her work. "I just don't understand how someone who doesn't know me at all can get so offended about something I put on my eye — my eye, my choices." While we're going to give a raucous "Hell yeah" to her badass mentality, we'll stick to eye drops when we're feeling adventurous.