This 1 Natural Cosmetic Treatment Will Make Your Skin Glow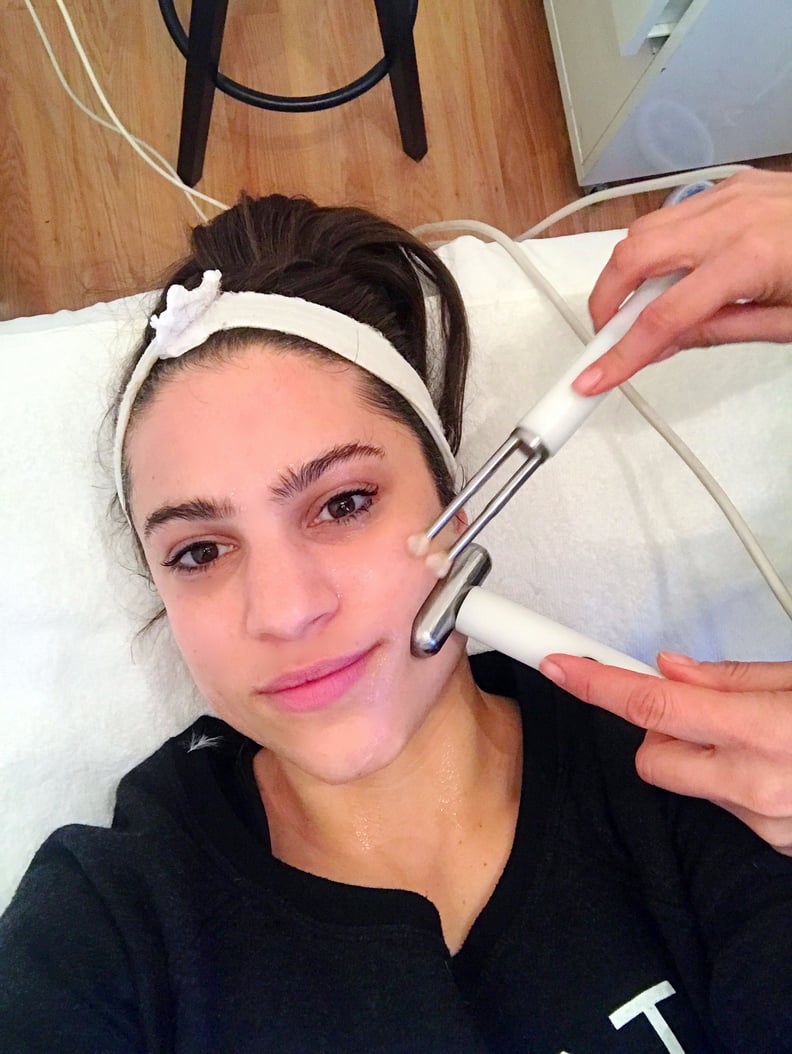 POPSUGAR Photography | Lauren Levinson
POPSUGAR Photography | Lauren Levinson
Sometimes a skin care treatment seems like a scam. It's too good to be true, right? I promise that is not the case when it comes to microcurrent facials. This is actually an old-school holistic technique that's been taking off with influencers and celebrities thanks to its antiaging properties. Just search #microcurrentfacial on Instagram, and you'll see what I mean!
The service — which I'll get into more depth later — involves sending microcurrent energy into your skin via a machine to stimulate cell repair. It's gentle and relaxing, it has zero downtime, and there are no chemicals involved. So for someone who wants to get their skin in top shape, it's a fantastic alternative to what the derms do with needles in their office.
To get the scoop on this hot service, I visited esthetician Shamara Bondaroff, founder of SB Skin (where the only facial on the menu is a microcurrent one). She tested the service on my skin — and I loved the glowing results. Keep reading to learn more about what it is, why it works, and how it can wean you off of fillers. You may even spy some familiar faces ahead (like Hannah Bronfman, who tested the service here).
What Is a Microcurrent Facial?
"Microcurrent is a highly healing, restorative, and regenerative treatment that uses a mild electrical current to stimulate the skin and facial muscles," Bondaroff said. "It's been used by alternative medicine practitioners for over a century to treat an array of injuries, wounds, soft tissue damage, and bone fractures. Microcurrent triggers the body's production of amino acids and adenosine triphosphate (ATP), which accelerates cell repair and promotes healthier cell production."
Basically, the esthetician uses a machine to run microcurrents of electricity over your face. Bondaroff covered my face, pictured, with aloe before gliding her magic wands over my skin from my jawline to my hairline. Everything looks and feels lifted and tighter afterward.
What Are the Steps of the Treatment?
While every microcurrent treatment is different — just like every facial is unique — this is how it goes down at SB Skin. First, skin is cleansed to remove oil, dirt, and makeup (standard). Next, the aforementioned aloe-based gel is layered on. The gel does two things: First, it conducts light energy jolts to be able to pass through the skin. And second, it hydrates your mug.
After there is a light exfoliation, followed by LED light therapy for about 10 minutes. Next, the serum is applied again, followed by another microcurrent treatment to really push the serum into the face. The grand finale is a bespoke moisturizer and a facial massage. The whole shebang lasts an hour.
"It is not only painless but incredibly relaxing," Bondaroff said. I can confirm this is 100 percent true!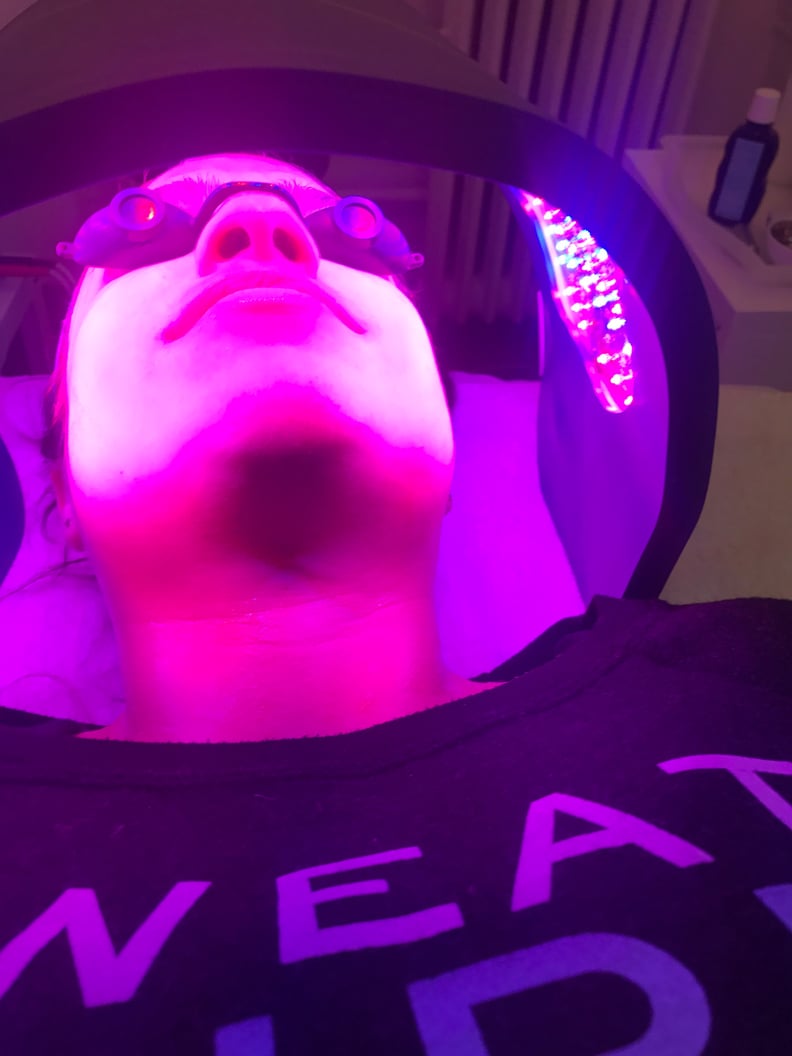 What's the Deal With the LED Light Therapy?
While the LED light therapy is not technically part of a standard microcurrent facial, according to Bondaroff, it will enhance the benefits. And for the record, LED light therapy is another form of energy passed to the skin via a computer chip encased in a glass-like resin. It relies on therapeutic wavelengths and colors of light energy to heal and repair skin.
"The LED light therapy is another great antiaging and healing modality that perfectly complements microcurrent," Bondaroff said. "LED light therapy has something for everyone: it stimulates collagen, improves skin texture and tone, and helps treat breakouts and discoloration. It's a nice way to calm the face and client after we worked it out with microcurrent."
Here I am sitting under the LED light therapy machine. I promise you also do not feel any pain here. It's similar to sitting in the sun, except that it's good for your skin.
What Are the Benefits of a Microcurrent Facial?
Think of this treatment as cardio or a workout for your face. It makes your facial muscles toned and leaner — just like a barre class would for your body. That's why your face looks skinnier and more lifted after.
Here is a mega list of benefits, according to Bondaroff:
Improvement of skin quality (greater tone, smoother texture, healthier glow)
Lifting of jowls and eyebrows
Reduction in wrinkles and fine lines
Reduction of dark circles and under-eye puffiness
Promotes lymphatic drainage
Increases skincare product penetration
"The entire face becomes lifted and more contoured, lines and puffiness are diminished, and overall complexion is improved," she explained.
When Will You See Results?
The cool thing about this facial is that like a good sweat, you feel and look detoxed immediately. "You will see visible results from just one treatment instantaneously," Bondaroff said. "These results will last 10-14 days. As you do multiple sessions, the effects start to last longer. We build on it."
That said, there are elements that can counteract the facial. For example, when Bondaroff looked at my skin, she immediately knew I was a coffee drinker due to the fine lines on my forehead.
"Hate to be a bore, but like don't drink so much alcohol — this will puff your face and dehydrate you," she said. "Or coffee — this will def dehydrate you, too."
Her last piece of advice: "Use products that are gentle and hydrating." My favorite natural skincare brands are Tata Harper and Eminence.
How Often Should You Do It to See Results?
As mentioned, this is a great treatment to do in a series (like three). You would not go to one indoor cycling class and expect to be fit for a month, but if you did it religiously, you would likely see lasting results.
"Results vary, but we usually recommend doing three to five facials done close together to start, then regular maintenance treatments," she explained. "Some clients come once a week, some once every six weeks. It all depends on your skin and your goals. Each person is very individual so we come up with a plan that works best for each, factoring in their skin and lifestyle."
For Real, How Does It Compare to Fillers?
OK, and now for the big question: is microcurrent actually a solid alternative to cosmetic injections?
"Microcurrent is the perfect alternative if you want to avoid fillers," Bondaroff said. "Fillers do nothing for muscle contour, natural collagen, or elastin production — all of which are needed to maintain the face's natural fullness and youthfulness."
That said, if you do choose to get fillers, microcurrent is a great complement to those procedures. "Over time, needles can cause atrophy to the facial muscles," she explained. "Regular microcurrent treatments help keep those muscles alive and healthy. It's also a great choice for anyone looking to wean themselves off of fillers."
What Made You Want to Get Into This Niche Business?
While microcurrent is not a new treatment, it's definitely starting to get buzz — especially on Instagram, where videos of the facial go viral. So I was wondering how Bondaroff got into this technique.
"I've always been interested in natural/holistic approaches to beauty, health, and wellness — it's how I was raised," she revealed. "After experiencing a microcurrent treatment myself, I was instantly obsessed: an antiaging treatment that is actually based on traditional healing techniques, rather than chemicals or injectables? I wanted my own machine for my own personal use, so I could give myself face and body treatments every day!" (Yes, you can use it on your body, too!)
She went on: "I knew if I was so hooked from the first treatment, all the women I knew would be, too . . . and the women they know, and so on. Also, as the oldest of three siblings and a Virgo, taking care of people is just part of who I am. When I considered all this together, becoming a facialist and opening SB Skin seemed like a no-brainer."
Why Is This the Best Treatment For Brides?
As a bride-to-be, I was delighted to learn you can do a microcurrent right before your wedding.
"The treatment is very gentle," she said. "You can get a facial the day before your wedding! Ideally, you'd do a series of facials before the big day." Pictured is beauty guru and Glossier founder Emily Weiss a few days before her wedding, showing off her glowing skin from a microcurrent facial. You know what they say, the proof is in the pudding selfie.