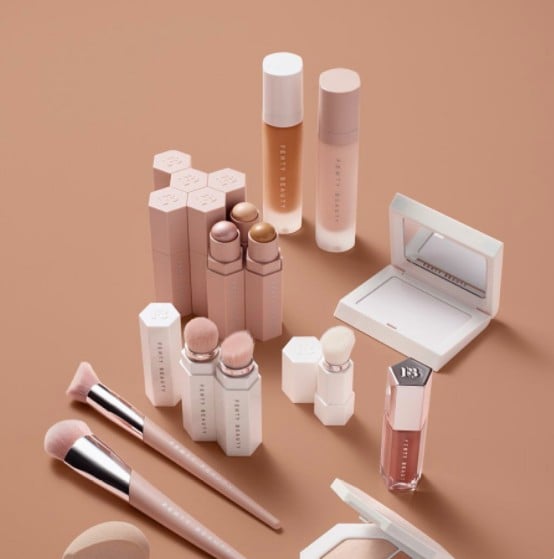 It's difficult to concentrate on anything while Rihanna and her Fenty team continuously leak videos, product teases, and promotional news about the brand. To make it easy for you to keep up, we're rounded everything we know so far in one organized place. From what we can tell so far, this is going to be one of the most gorgeous and inclusive launches of 2017!
The Packaging and Products Are Chic
Hello, Instagram! The packaging rivals that of Kim Kardashian's KKW Beauty, featuring a creamy pink-and-white aesthetic. The pale, dreamy packaging is gorgeous for your pastel 'gram feed.
In terms of actual products, we're seeing cream contour and highlighter sticks, tinted moisturizer, illuminating primer (if we had to guess), powder, pearly lip gloss, and multidimensional pressed highlighter powders. There are also fluffy pink makeup brushes and a blending sponge. A standout is a small pack of blotting papers in a chic pink case complete with a mirror.
The Line Is Inclusive
We've seen a tease of what the makeup actually looks like on with this video release. It features a diverse squad of models, including Paloma Elsesser, Duckie Thot, and Halima Aden, the Muslim model who famously walked in Kanye West's Yeezy runway show in a hijab.
"I want to thank the Queen herself [Rihanna] and [casting director] Samuel Ellis for the opportunity of a lifetime!" Halima wrote on Instagram, using the hashtag #historyinthemaking.
There Are 40 Foundations
Expect to find your perfect shade out of Fenty's 40 hues of foundation! The news of this broke on social media when a fan direct messaged Rihanna if there would actually be 40 colors. Rihanna allegedly responded, "You knoooowwww it!!!!! Gotta represent for my girls and we come in all shades! Especially my brown sisters . . . been left out too many times in the makeup world!"
This Is For Women Who Want to Stand Out
"You don't all have to be all the same, all the time," model Camila Costa says in this promo while calling out the shade names.
There's a Gorgeous Gold Highlighter
In the video, we see models with gorgeous gold flecks on their faces. We're assuming the sparkle comes from this true yellow-gold highlighter.
The Lip Gloss Is Poppin'
Lip gloss is having a moment in this '90s renaissance, and this rose gold version feels totally 2017.
There Are Bold Colors
We're not sure what these creamy formulas are (lipstick? blush?), but they seem bright and statement-making.
That neutral hue in the center looks like it would be the ideal workday go-to.
There Is a Product Called Match Stix
We believe these are shade and highlighter sticks. TBD.
There Are Fluffy Powders
We're seeing Fenty blush and bronzer in our future.
It's Cruelty-Free
The hashtag for this photo said #CrueltyFree, so you can feel good about spending ALL your money on this new makeup. The packaging also has the word "perfect" scripted on it. Well said!
You Can Get It Tonight!
Finally, "The Family," as its being called on Instagram, drops on Sept. 8 at 12 a.m. PT/3 a.m. ET at fentybeauty.com. If that's past your bedtime, learn about the line during a live stream at 7:15 p.m. ET on facebook.com/fentybeauty. It's all happening!