I Tested 4 Primers During the Hottest Weekend of My Life — Here's Which 1 Held Up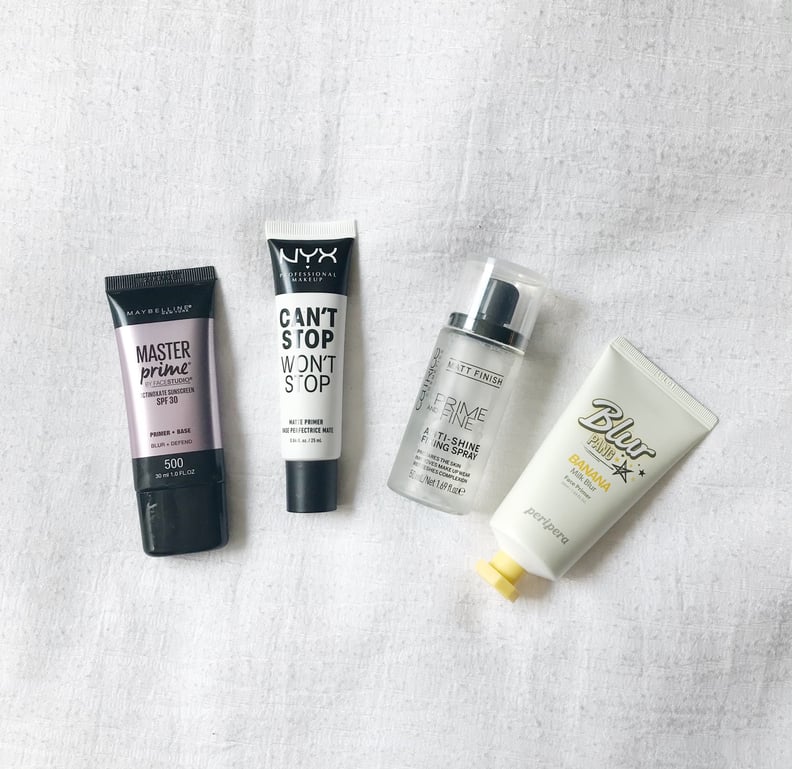 POPSUGAR Photography | Quinn Keaney
POPSUGAR Photography | Quinn Keaney
A few days before I was set to spend a long weekend in Chicago, I opened up the weather app on my phone and made a devastating discovery: it wasn't going to be cooler than 88 degrees the entire time I was there. (That was the low; the high was a whopping 96 degrees.) Suffice to say, I immediately started panicking.
Do I love hot weather in theory? Sure — it means picnics in the park, beach trips, and sipping rosé at some overpriced sidewalk café. But in reality, "hot" in my home of New York City usually means soul-crushing humidity with temperatures so high your makeup melts off your face and onto the subway tracks. I worried that Chicago — where I'd be attending Lollapalooza and sitting in the hot sun on a speedboat, among other things — would be similar torture.
So I made sure to pack a few secret weapons in my makeup bag. Four secret weapons, to be specific: a variety of makeup primers each less than $15 that claim to make your foundation stay in place from sunup to sundown. With thermometers skyrocketing in the city over the weekend, I put them all to the test to see which could outwit, outlast, and outplay the other.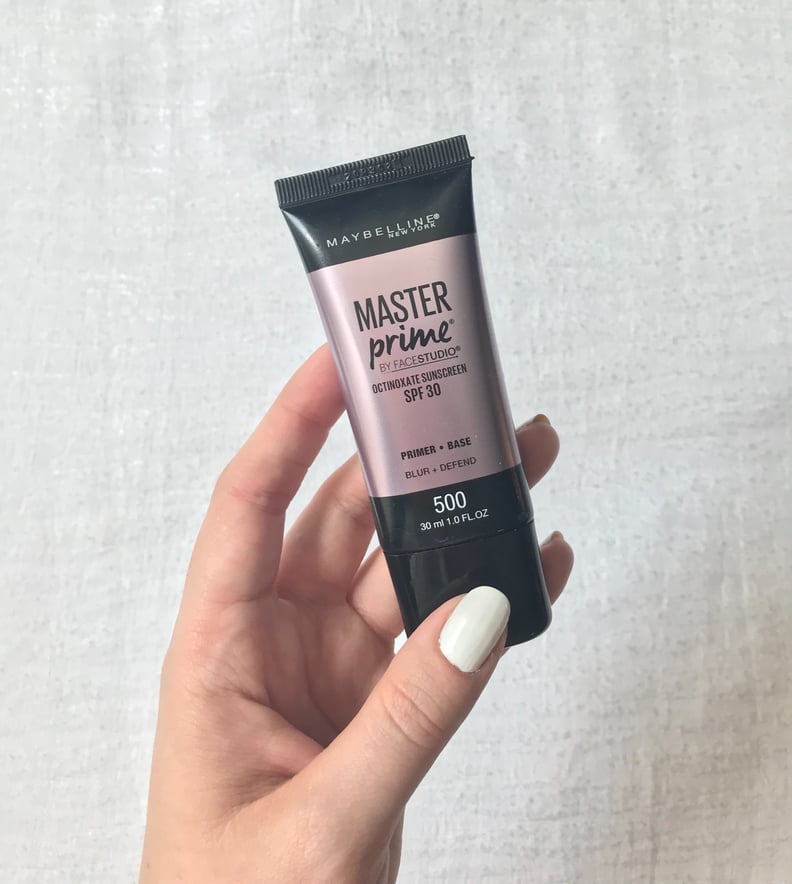 Maybelline Master Prime by FaceStudio
The first primer up to bat was Maybelline's Master Prime ($10), which I was praying would do the job because my lineup of activities on Thursday included an all-day event on a roof deck of the Merchandise Mart in Chicago, then attending a happy hour, and finally a Cubs game at night.
Since I'd be surrounded by other journalists I've never met before at these events, I wanted to make a good impression. I also knew I wouldn't have much time in between each activity to touch up my face.
Fortunately Master Prime promised to blur any imperfections (which I needed for my a giant chin pimple that developed during my two-hour flight) and defend my skin from the sun. It boasts SPF 30 and a lightweight, non-greasy formula that supposedly won't clog your pores.
So, how did it work?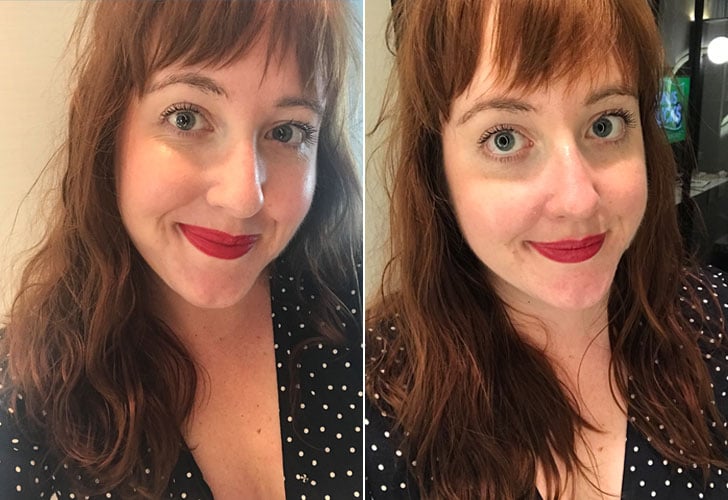 The Results
First thing's first: this feels like a dream to put on. It's the most lightweight primer I tried by far, which is great since I put on a full face of makeup on top of it — Fenty's Pro Filt'r Soft Matte Longwear Foundation, blush, highlighter, translucent setting powder, liquid eyeliner, and lipstick.
This goes on really smooth, blurred my pores in the way it promised, and has a really subtle, nice fragrance to it.
The primer definitely didn't last the nine full hours I was out and about (you can see the blemishes I have on my chin and the redness of my skin are more visible in the after photo on the right). However, if you don't have a long-ass day like I did, I highly recommend this one, especially if you're going to be out in hot weather, since the lightweight formula won't feel heavy or gross on your skin if you start to sweat.
Peripera Blur Pang Banana Milk Blur
Not only does Peripera's Blur Pang Banana Milk Blur ($12) come in an adorable bottle, it also smells f*cking good — like banana. The primer claims to make your skin tone "look naturally flawless and bright," and although the pale yellow formula felt light on my skin, it definitely took a minute to make sure it was properly rubbed in. (At first, it was giving my already-pale skin major Pennywise vibes.) Once it was rubbed in, though, I definitely noticed an improvement in both the smoothness of my skin and how bright it looked. So how did it hold up?
The Results
The Milk Blur was tasked with keeping my face looking fresh through a full day at Lollapalooza, where it was a solid 95 degrees outside with not a cloud in the sky. I've never sweat more in my life (nor regretted my decision to get bangs) as much as I did that day.
As you can see in my before-and-after, this primer couldn't quite hold up to the waterfall of sweat that was pouring down my face all afternoon and evening. Like my lipstick, my foundation was in a sad state by the time I got back to my hotel that night. Still, though, I would recommend it because of how great it smells, the way it made my skin feel so smooth, and how non-greasy the formula is. You might just require some touch-ups here and there.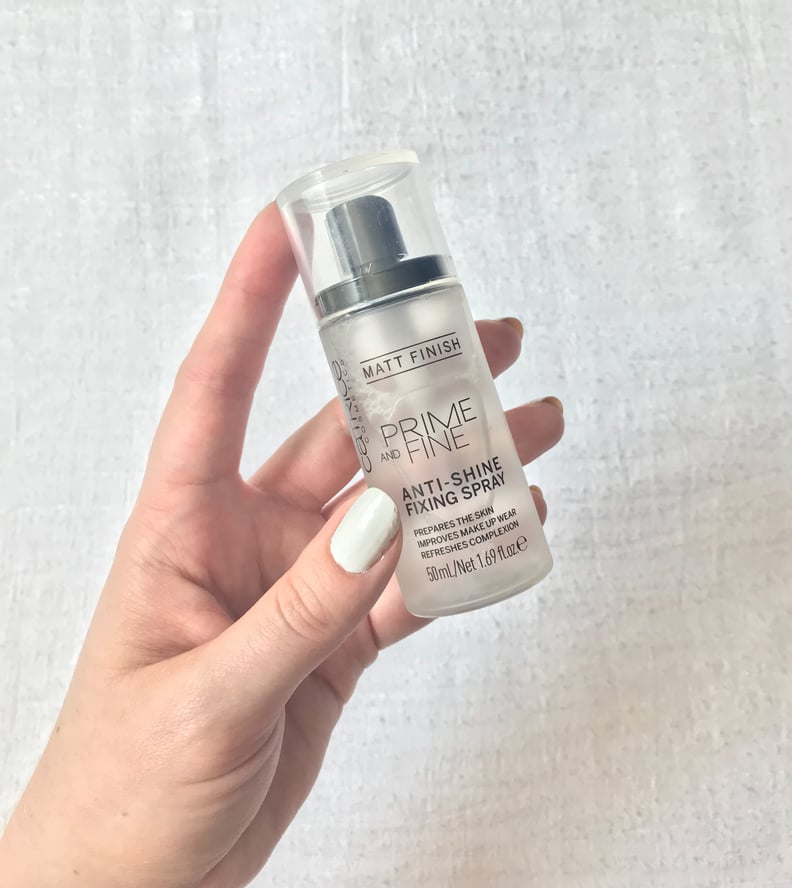 Catrice Prime and Fine Anti-Shine Fixing Spray in Matt Finish
I've used setting sprays in the past and always had great success with them (Urban Decay's All Nighter being a fave), which is why I was so looking forward to using Catrice's Prime and Fine Anti-Shine Fixing Spray in Matt Finish ($8). After washing my face and putting on a lightweight moisturizer with SPF 30, I spritzed this on my face to act as a primer, and then sprayed it again once my makeup was applied to set everything. Both times I noticed how fast it dried and couldn't help but feel refreshed.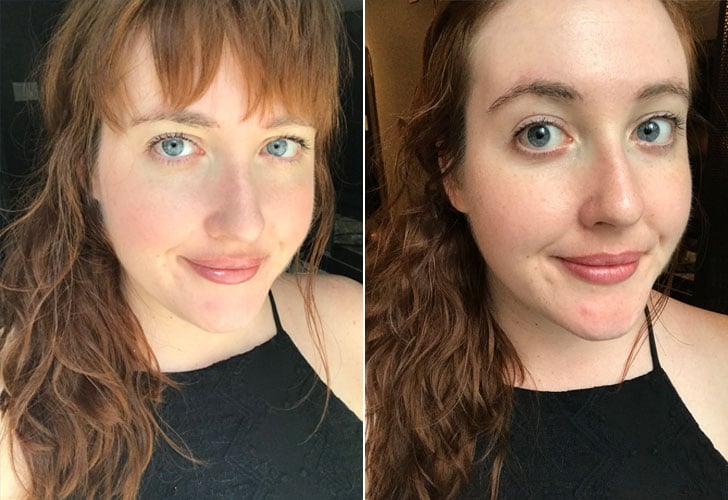 The Results
This spray definitely gets a gold star in the matte department — my oily skin didn't stand a chance against it. It's worth noting that my day using this product was spent in 100-degree weather, where I (unwisely) decided to go for a ride on a boat on Lake Michigan with no shade and got repeatedly sprayed in the face with mists of water. While my bangs and mascara rudely bid me adieu, my foundation remained rock solid. If you have a long, hot day ahead of you, I suggest using this as both a primer and a setting spray and you'll be good to go.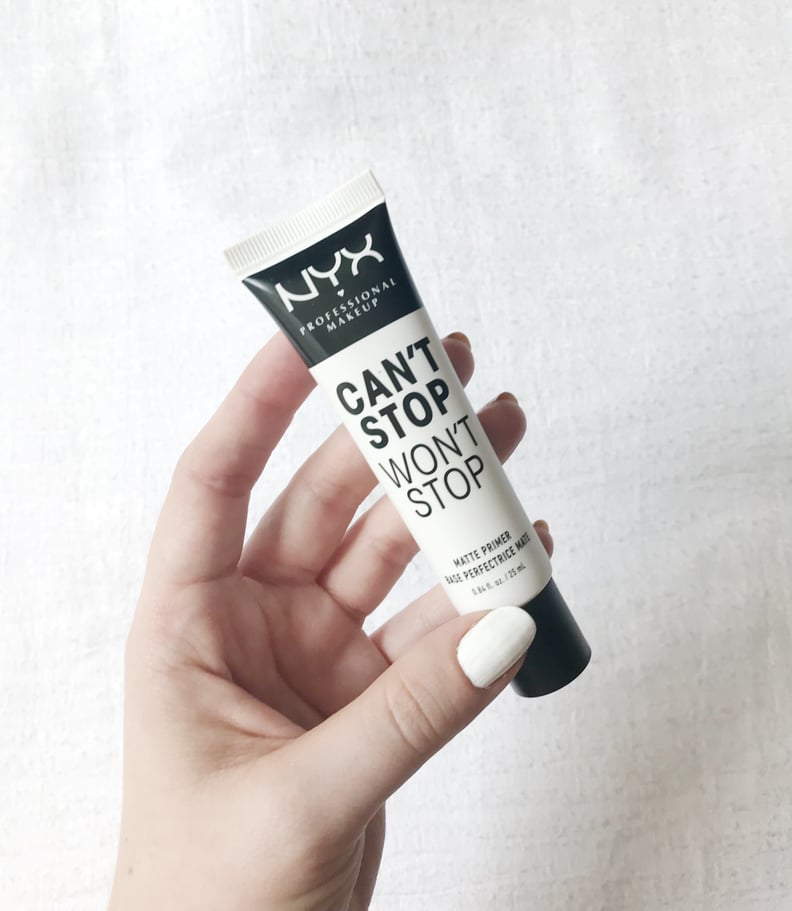 NYX Can't Stop Won't Stop Matte Primer
Last on my list was the Can't Stop Won't Stop Matte Primer from NYX ($13). I wasn't totally thrilled with the way it felt on my skin — the clear gel felt a little too too thick going on for my preference, and when I rubbed it in, the primer began to pill. Even though it wasn't exactly the smooth canvas I was after, once I dusted off my face, it looked great underneath my makeup.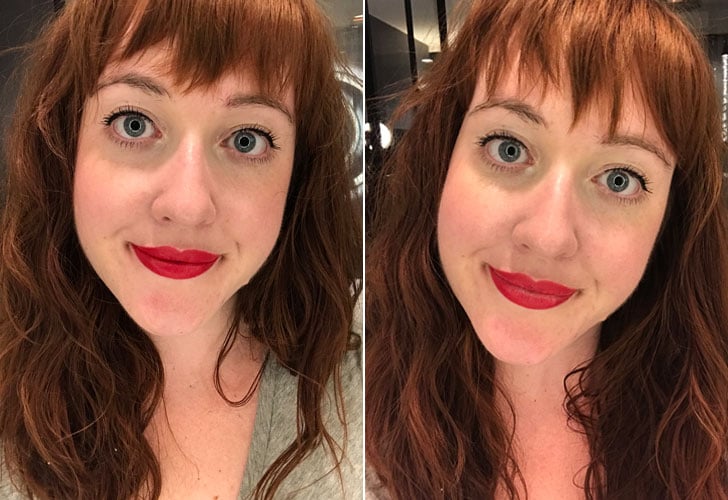 The Results
As much as I didn't enjoy actually putting this primer on, I have to say that it lives up to its name: this stuff won't stop keeping your makeup near-perfect — even through a humid night that had me sweating through dinner along the river, a Walk the Moon concert, and a pizza-eating session at 1 a.m. As you can see, not even my lipstick and eyeliner could stand up to the task, but my skin stayed matte and basically looked the same as it did when I left my hotel room.
If you can get past the relatively unpleasant application process, this primer will no doubt ensure that your makeup stays put no matter how high the temperature soars.