Annoying Co-Worker Habits
What's Annoying Your Co-Worker?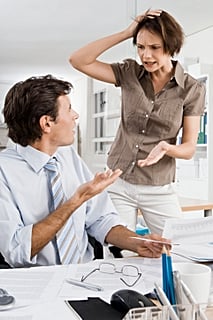 You can pick your friends, but just like family, you can't pick your co-workers. A recent survey by LinkedIn found that professionals all over the world have a bone to pick with their colleagues. Here are some of the top office pet peeves cited by participants:
People who don't own up to their actions.
Co-workers who keep on complaining.
People who make a mess of the fridge, microwave, or other common areas.
Meetings that start late or drag on for way too long.
People who don't respond to emails.
If your colleague has a habit that you just can't stand, Nicole Williams, LinkedIn's connection director, advises to have a calm conversation with a colleague. It's worse to let the problem gnaw away at you and have the frustration build, she says. What are some of your office pet peeves?