15 Days of Holiday Giveaways, Day 7: Win $2,500 to Barneys New York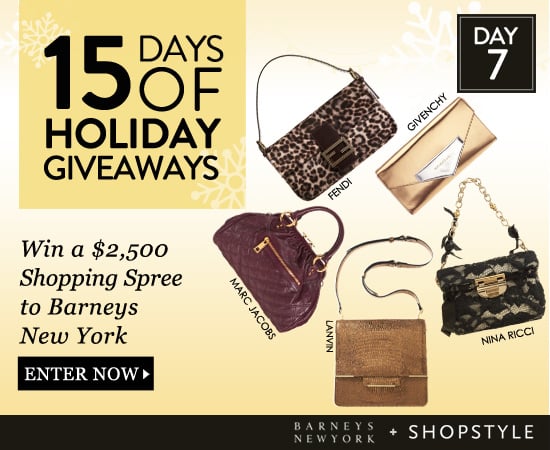 It's the holiday season, and we're getting in the spirit with our third annual 15 Days of Holiday Giveaways! Every day for the first 15 days of December, one of the PopSugar Network sites — plus our sister sites PopSugar Shop, Fashionologie, and ShopStyle — will feature a new fabulous giveaway.
For our seventh day of holiday giveaways, our sister site ShopStyle is giving away a $2,500 shopping spree to one of their favorites, Barneys New York.
Enter ShopStyle's giveaway now!
After you enter ShopStyle's giveaway, don't forget to enter PopSugar's giveaway to win a $2,500 shopping spree to Bloomingdale's, TrèsSugar's giveaway to win a $1,500 Victoria's Secret gift card, LilSugar's giveaway to win a Huggies holiday prize package, PopSugar Shop's giveaway to win an exclusive Pamela Love necklace and $500 PopSugar Shop credit, FabSugar's giveaway of a $2,500 gift card to J.Crew, and FitSugar's giveaway of two Trek bikes and Vella bags. We will be revealing more amazing giveaways every day, so come back daily and enter them all. Good luck and happy holidays!