2007 American Music Awards Show
Sexy Men and Sweethearts Sing Their Hearts Out
Start Slideshow
ADVERTISEMENT ()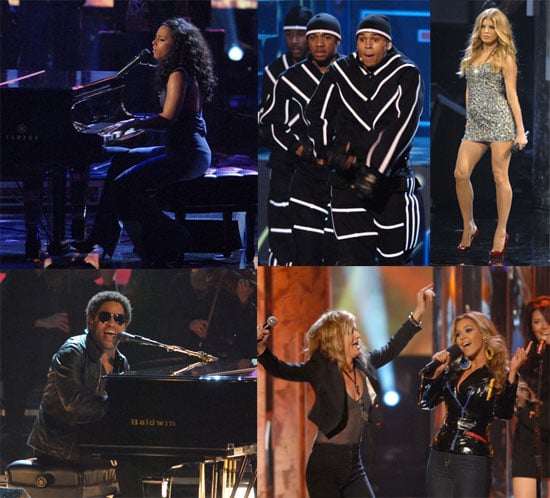 0
Sexy Men and Sweethearts Sing Their Hearts Out
AMA winner Fergie opened the show last night with a medley of her latest and greatest hits. It was a strong start for a show that definitely included some memorable performances including glow in the dark dancer, Chris Brown and Rihanna who looked way better on stage than on the red carpet. Beyonce dressed down when she joined Sugarland for a duet of her hit Irreplaceable. Sexy Lenny (yes I have a huge thing for him) wore his usual all black as he sang a soon to be hit song from his new album. My favorite performance of the night was Alicia Keys (check out the video below). Not only was her voice killer but the songs she mixed together definitely got the crowd on their feet. She is a wonderful performer and even if I'm not used to seeing her do choreographed dance moves, she pulled it off. We have a feeling her album is going to knock Jay-Z off the top spot this week.
For a lot more pics including a shirtless Kid Rock who showed off his soft side as he sent his condolences to Kanye, those High School Musical kids, Celine, Mary J, video of Alicia's awesome performance and more just
Images include Fergie, Will.i.am, Miley Cyrus, Carrie Underwood, Nicole Scherzinger, James Blunt, Christina Applegate, Avril Lavigne, Usher, Alicia Keys, Beyonce, Vanessa Hudgens, Ashley Tisdale, Mary J. Blige, Josh Groban, Lenny Kravitz, Adam Levine, Jordin Sparks, Kellie Pickler, Blair Underwood, Taye Diggs, Daughtry, Celine Dion, Natasha Bedingfield, Sean Kingston, Jennifer Nettles, Ryan Seacrest, Ne-Yo, Rihanna, Chris Brown, Snoop Dogg, Kid Rock, Justin Chambers, Chyler Leigh.