2008 Critics' Choice Awards
Critics' Choice Kicks Off Award Season
Start Slideshow
ADVERTISEMENT ()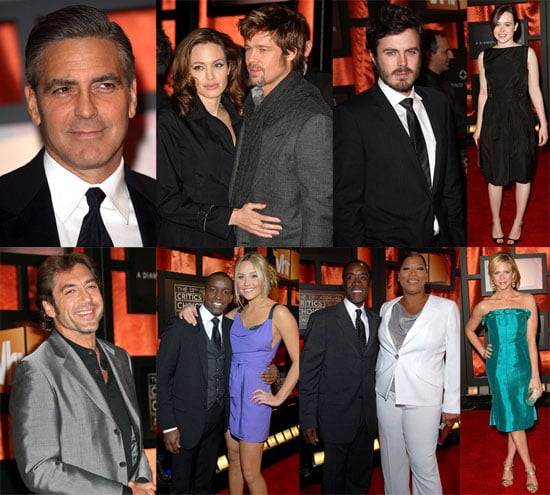 0
Critics' Choice Kicks Off Award Season
The Golden Globes may be canceled but not all award shows are affected. The 13th Annual Critics' Choice Awards kicked off the season and a-listers like George, Don, and Brad and Angie came out to walk the red carpet. Brad looks like even he is growing a strike beard which is another reason we should end this writers' strike quickly. The Hairspray and Juno casts were all smiles as well as Javier who would
win big that night. Seeing the stars dressed up so nicely makes us hope they still go big for the revised globes news telecast since it would be a shame to waste all those beautiful dresses that are already reserved. One lady who was definitely taking advantage of the red carpet glamour was Emily Deschanel. She really took it seriously - tell Bella do you love it or hate it?
For lots more pictures of Casey Affleck, Ellen Page, Queen Latifah, Snoop Dogg, and of course Brad and Angie, just
Images include: Angelina Jolie, Brad Pitt, Brittany Snow, Casey Affleck, Ellen Page, Emily Deschanel, George Clooney, Kyra Sedgwick, Amanda Bynes, Elijah Kelley, Monica, Nikki Blonsky, Allison Janney, Don Cheadle, Emile Hirsch, Marcia Gay Harden, Queen Latifah, Snoop Dogg, Javier Bardem, D.L. Hughley, Cuba Gooding Jr.