2009 Golden Globe Nominations
Benjamin Button, Doubt and Frost/Nixon Win Big at Golden Globe Nominations
Brooke, Elizabeth, Terrence and Rainn woke up early this morning to announce the Golden Globe nominations — check out the full list of nominees here! Benjamin Button scored big with five nods including Best Actor for Brad Pitt! Angelina Jolie will be joining him with her own Best Actress nod for Changeling — congrats! Doubt and Frost/Nixon were also big winners with five nominations each and noticeably absent from the awards was Milk, with only one nomination for Sean Penn as Best Actor. Kate Winslet's movies came out on top as well with Revolutionary Road and The Reader each getting four nominations, including Leonardo DiCaprio for Best Actor, Kate for Best Actress (in Revolutionary Road), her husband Sam for Best Director and Best Drama for both of the movies. Kate also got Best Supporting Actress for The Reader. Heath Ledger got a Best Supporting Actor nod posthumously, although Dark Knight didn't score anything else, and will be going up against Tom Cruise who received a nomination for Tropic Thunder.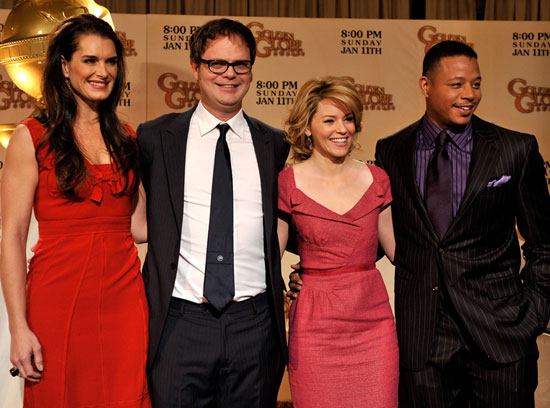 For TV, we're excited that Alec and Tina scored Best Actor and Best Actress, respectively, for 30 Rock as well as Best TV Comedy. Recount and In Treatment were each given five nods and one of our favorites, Californication scored a Best TV Series, Comedy and Best Actor for David Duchovny. Congratulations to all of the nominees!
To see more photos of Brooke, Elizabeth, Rainn and Terrence just read more.