2011 Emmy Ballot and Live Online Red-Carpet Coverage
Get Ready For the Emmys With Our Ballot and PopSugar's LIVE Red-Carpet Stream!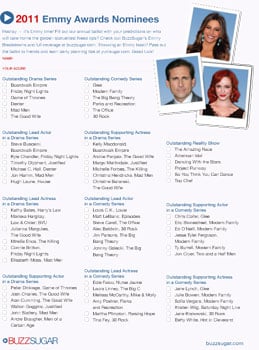 The Emmys Awards are only a couple of days away, and we're doing everything we can to make sure you're fully prepared for the award show! We're making it easy for you to make your Emmy predictions with our printable Emmy ballot. Already made your predictions? You can win a 40-inch flat-screen TV when you share your picks on our online ballot. Come Sunday, the PopSugar Network is bringing you all the excitement LIVE online from the Emmys red carpet! Starting at 6 p.m. EDT/3 p.m. PDT, hosts Lindsay Miller and Molly Goodson will fill you in on up-to-the-minute arrivals. Once the show starts, you can continue to catch all the award show night scoop with Emmys.com backstage LIVE coverage, so make sure to keep those laptops plugged in while you watch!