2013 Presidential Medal of Freedom Honorees
The Famous Faces Getting a Big Award From President Obama
Today the White House announced the names of 16 high-profile honorees who will receive the Presidential Medal of Freedom later this year. More than 500 people have been recognized with the prestigious honor since it was established by JFK in 1963, and this year's recipients include some of the most successful people in politics, music, sports, and pop culture. Former President Bill Clinton is set to be honored along with Oprah Winfrey, baseball superstar Ernie Banks, civil rights activist Bayard Rustin, and the longtime University of North Carolina basketball coach Dean Smith.
Regarding the list of 2013 honorees, President Obama said, "The Presidential Medal of Freedom goes to men and women who have dedicated their own lives to enriching ours. This year's honorees have been blessed with extraordinary talent, but what sets them apart is their gift for sharing that talent with the world." Learn more about why people like Bill Clinton, Oprah, and Gloria Steinem will be honored: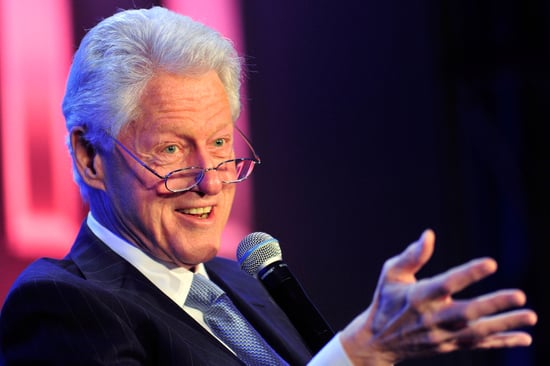 Bill Clinton
Former US President Bill Clinton is being honored both for his time in the White House and for his efforts since leaving office. Along with his wife, Hillary, and his daughter, Chelsea, he continues to make an impact through the Clinton Foundation, which focuses on environmental, health, and economic issues. It's the latest in a string of honors he's received this year — Clinton was named Father of the Year in June by the National Father's Day Council and was also recognized for supporting LGBT rights at the GLAAD Awards.
Oprah Winfrey
Beyond Oprah's TV success with a 25-year run on The Oprah Winfrey Show, she's also been a major activist through the years. Her Angel Network supports a variety of charity efforts, including work with veterans and the rebuilding of New Orleans. She also established the Oprah Winfrey Leadership Academy For Girls in South Africa, which promotes leadership among young women.
Gloria Steinem
As one of the most iconic leaders of the women's liberation movement, Gloria Steinem has established herself as a key figure for feminism and women's rights. She was one of the first women to speak out for the feminist movement in the 1960s and 1970s, and today, she continues to empower women through her books and appearances.
Keep reading to learn more about this year's Presidential Medal of Freedom honorees.
Loretta Lynn
Now a country music legend, artist Loretta Lynn first entered the male-dominated industry in the 1960s. She served as a role model for fellow females in the country music world, and over the past 50 years, she's won several awards, including recognition at the 2003 Kennedy Center Honors and the 2010 Grammy Lifetime Achievement Award.
Sally Ride
As the first American female astronaut, Sally Ride charted new territory for women in the scientific industry. Following her time in space, she worked with NASA, served as an adviser, wrote several children's books, and raised awareness for gender equality. In 2012, she passed away after being diagnosed with pancreatic cancer, and she will be receiving the award posthumously.