*NSYNC, Lil' Kim, and Busta Rhymes? Booya! This year's MTV VMAs felt like a time machine that took us all the way back to the '90s — and we didn't hate it. There was the boy band reunion that basically took over the Internet, members of TLC made an appearance, and Lil' Kim took the stage to present an award. Translation: if you loved the '90s, then this year's VMAs show was basically "the bomb." Here's why:
*NSYNC Actually Reunited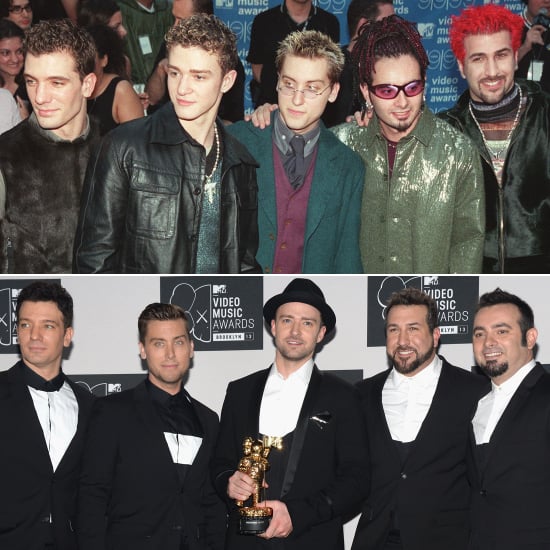 When rumors first started flying over a possible *NSYNC performance, #NSYNC quickly became a top trend, and days later, the band joined Twitter — all but confirming their reunion. Reactions varied on their time in the spotlight, with some fans wishing there was more *NSYNC action during the show, but thanks to GIFs of their performance, we can all relive the magic over and over (and over) again.
"T-Boz" and "Chilli" Showed Up
TLC's Tionne "T-Boz" Watkins and Rozonda "Chilli" Thomas took the stage to introduce Drake's performance at the VMAs, with T-Boz sporting the same sort of midriff-baring outfit she wore to award shows back in the day. Although we didn't get to see them perform, fans will have a chance to see more of TLC when their VH1 original film CrazySexyCool: The TLC Story comes out in October.
Keep reading for more '90s nostalgia moments at the VMAs.
Lil' Kim Brought Her Sexy Back
She was a bit more covered up this year, but Lil' Kim stayed true to her signature sexy look for the 2013 VMAs. Joined onstage by Iggy Azalea, Lil' Kim helped to present the award for best hip-hop video to Macklemore & Ryan Lewis. While presenting, she said she was excited about this year's venue, saying, "Growing up in Brooklyn, I would have never imagined the VMAs being right here."
Busta Rhymes Hit the Red Carpet
His hair may be a bit shorter, but if Busta Rhymes's VMA outfit was any indication, he's still a fan of the wild prints! And good news for Busta fans — he recently shot a music video with Kanye West for his song "I Wanna Thank You" off his upcoming album.