Adrian, Richard, Heath and Elle Were There Last Night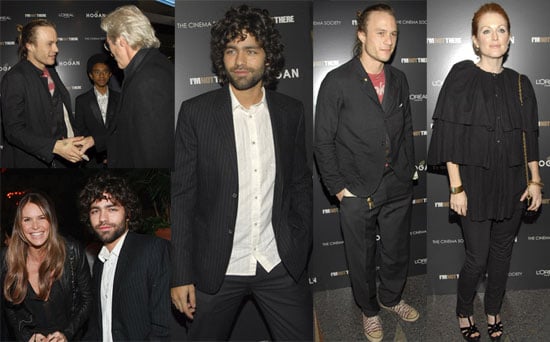 0
Adrian, Richard, Heath and Elle Were There Last Night
All sorts of on screen Bob Dylans (but not the man himself) came out for a screening of I'm Not There in NYC last night. Three of the movie's Bobs — Richard Gere, Heath Ledger and Marcus Carl Franklin — met up on the red carpet, while Adrian Grenier just paid homage to the iconic artist with his big hair. Elle Macpherson looked like a rock star herself with her hot leather jacket. As for Julianne Moore, I'm just happy she's a redhead again. Check back at the end of the week to see what Buzz thinks about I'm Not There — at this point I think it looks like it could be either awesome or terrible but probably nothing in between, you?
To see more from the premiere including Heath, Adrian, Elle, Richard and others just
Images include Adrian Grenier, Cynthia Rowley, Elle MacPherson, Glenn Close, Harvey Weinstein, Heath Ledger, Helen Lee Schifter, Julianne Moore, Lauren Bacall, Marcus Carl Franklin, Olivia Palermo, Patricia Clarkson, Richard Gere, Todd Hayes.