Ahna O'Reilly Interview About As I Lay Dying
Ahna O'Reilly on Working With "Incredible" Ex James Franco
Ahna O'Reilly really knows a thing or two about working with James Franco. Not only has she known him for years (they even dated), but she also worked with him on his feature-length debut, As I Lay Dying, which comes out on video on demand today and will be available on DVD on Nov. 5. We got a chance to talk to Ahna about working on the film adaptation of the classic of the same name by William Faulkner and learned about her new literature-related project with James.
POPSUGAR: How did you get involved with As I Lay Dying?
Ahna O'Reilly: I've known James Franco and [producer] Vince Jolivette for years, and I knew that they wanted to make this. At one point they mentioned to me that they wanted me to be Dewey Dell, but this was two years before it actually got made. I just didn't want to hope to get the role and have it not happen, so I just forgot about it.
Then when it came back around, and it looked like it was a real movie that was coming together, I still refused to believe it until I was actually there because it seemed too good to be true. It's such a fantastic role and to be a part of the remaking of such a classic novel that's such an amazing piece of American literature. I just couldn't believe that that was my good fortune. So, that's how it came to me, really, was through them.
PS: So, I take it you're a fan of the book?
AO: I'm a fan of the book. I had read it once before, and I have to admit, I don't think I fully grasped it — it's a difficult read. But then when it looked like it was becoming more and more of a real thing, I reread it. I probably have read that book a total of seven times, if not more, just because I kept rereading it throughout the making of the film. It was such an amazing tool to have as an actor, not only to have a book, but to have a section that your character narrates. So, that was such a gift to have.
PS: This is a book that a lot of people get introduced to in high school and is, as you said, a big piece of American literature. Was it daunting for you guys to take on such a big book?
AO: Actually, no. I thought it would be more, and there were certainly times when we'd have these long moments in the film where we're reciting basically an entire page dialogue — there are these long confessionals to the camera, soliloquies, when I was doing those, I felt like, "Wow I really cannot mess up my lines. I really have to get these lines down because I don't want to mess with Faulkner."
That was the main pressure: making sure I was getting his words right. Whereas in another film, I can be like, "Oh this word or that word, its not the end of the world, its no big deal." But other than just the pressure of really getting the lines down completely and thoroughly and completely in my bones, I didn't feel much of a pressure from the outside. It felt like we were all there because James has this deep love of Faulkner. We all got to be a part of that. It didn't feel like it was for a greater audience, it felt like it was for each other's passions.
PS: What was it like working with James on this film, especially since he is such a fan of Faulkner?
AO: He was incredible. He's so cooperative, and this is one of his favorite books, so you could just feel his love and passion for it, and it was a really wonderful experience to be there as an actor and watch him get to realize this dream of his.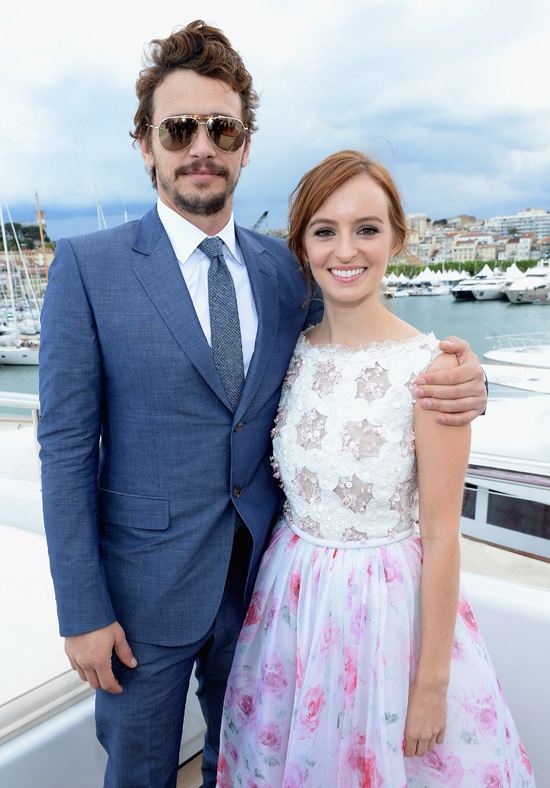 To see what else Ahna said about the project, just
.
PS: Dewey Dell has a lot of serious, heavy scenes in this film and in the book. Was there a particular scene that you were nervous about doing?
AO: Dewey Dell has a lot of very intense scenes, and I was very nervous about most of them. James is very trusting and, in a way to his actors, a hands-off director in that he's not babysitting any of us. One of the scenes that was pretty hard physically, and I didn't expect how difficult and draining it would be, was the scene in which we're all at the graveyard they come to arrest Darl, and Jewel holds me back [from attacking James]. And the guys that day had been digging this grave, and then I had this physical attack on James with Logan Marshall-Green holding me back, and it was so physically intense. That to me was, in the end, one of the most draining and exhausting scenes and one of the ones I was most intimidated by.
PS: There are also a lot of experimental elements in this film. How did you guys approach the more nontraditional scenes?
AO: For example, the split screen, that was something that as we were doing it, they were kind of talking about it, but it wasn't something I knew going in, it wasn't even something I knew they would end up doing. We had heard that it was something they were trying, but I remember feeling excited about the idea without having seen it, because its just a really wonderful way to tell this story from everybody's different points of view. It fits the structure of the novel in a way and just seems to match that wonderful additional way to tell the story experimentally. When I saw it, I was blown away.
PS: Since this is a book that a lot of kids read in school, there's a possibility this might be something that college or high school kids watch in addition to reading the book. Would you like to become part of a class syllabus?
AO: I think if it's going to make someone more excited to read that book, to watch the movie, then absolutely. I find that to be thrilling. I would be happy for that to be the case. I think it's important to remember that this is just one interpretation of this novel, but I would be excited for high school or college students to watch the film because the watching of it is similar to the experience of reading it. The split screen helps that. It's not your typical adaptation. I hope it is! I think it would be a great addition to reading the book.
PS: You strike me as someone who is very well-read. What are some books you are excited about right now?
AO: I just jumped on the Gone Girl train and finished that in, like, two days. It was such a fun read. I just read The Secret History by Donna Tartt, The History of Love, and I just read The Sports Writer by Richard Ford.
PS: I was snooping a bit on your Twitter, and it sounds like you guys are working on The Sound and the Fury. Is that true?
AO: Yeah! We are! We shot some of it at the end of September, and we're going back to finish it in January.
PS: A lot of the cast from this film will be reuniting, in a way.
AO: We are! A lot of us are there from As I Lay Dying, which is so exciting. Scott Hayes, Tim Blake Nelson, James [Franco], myself, Brady Permenter. It's wonderful. And we shot it in Mississippi, so it's always great to be back.
PS: What else are you up to, other than The Sound and the Fury?
AO: I am just finishing up work on this indie called No Way Jose that Adam Goldberg directed and is starring in. That's what I'm working on right now, and then we'll see!
PS: Do you have any holiday plans?
AO: Normally for the holidays, my family all gets together in Northern California, where I'm from. This Thanksgiving, we're going to Jamaica. So we are totally straying from tradition this year! For the New Year's holiday, I have two younger sisters, and we started a little tradition where we go away for New Year's, so we'll be doing that again this New Year.