Ali Larter on Movies, Men and Love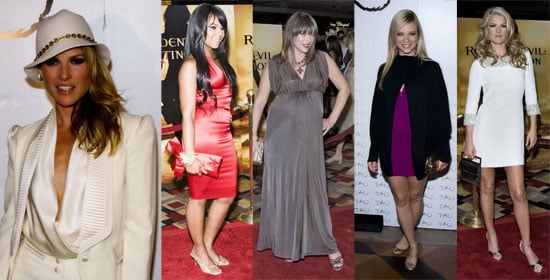 0
Ali Larter on Movies, Men and Love
Ali Larter was in Las Vegas the other night for the premiere of her new movie Resident Evil: Extinction. Also there was her co-star, the very pregnant and beautiful, model, actress turned clothing designer Milla Jovovich. Ali hosted an after-party at TAO with other guests including Amy Smart and Ashanti (along with her boyfriend Nelly). The newly declared Best Dressed Ali made sure to have time to swap her white dress for a sophisticated pantsuit and hat combo. Ali is also Cosmo's cover girl this month and in her interview, she dished on her personality, her rock-solid relationship, and love. She said,
On her personality: "I'm a bit of a contradiction…I like tomboy stuff, but I also love girlie, girlie lingerie because I feel sexy when I'm in it."
On what makes relationships work: "It's about being there for each other through the ups and downs of life. I do want to get engaged and married…and I look forward to that time when I'm home with babies."
On love: "You always have to give love your all, and if it doesn't work out, he just wasn't your man."
Everything certainly seems to be going well for the actress these days. Luckily, we won't have to worry about Ali's big screen career taking her away from TV, because season 2 of Heroes starts next week!
To see more of Ali, Milla and Ashanti just
Images include Ali Larter, Amy Smart, Ashanti, Milla Jovovich, Pamela Anderson, Branden Williams, Sylvester Stallone, Jennifer Flavin and Nelly.