America Ferrera Likes to Be Ugly
America Ferrera stopped by TRL to promote Ugly Betty. We love the t-shirt she was wearing. Most people get all dolled up in their trendiest look to appear on TRL but not America. She wants to remind people to Be Ugly. America is having a ball playing the fashion challenged, but sweet-hearted Betty. And while she doesn't get noticed much without her costume on, she does have a blast playing Betty in real life too. Here's more: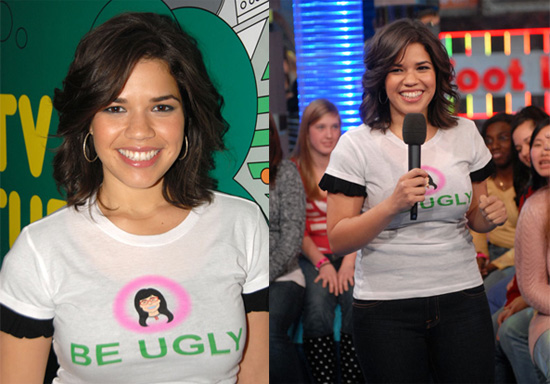 "People give me looks and think, 'Do I know you from high school?' They don't know exactly where to place me but they recognize me," she said. "But I went to vote with my glasses and braces at my lunch break and they're like, 'Oh, my God, ugly Betty is voting.' That created a little stir."

Ferrera was pleased to see her character become a popular costume on Halloween.

"That was really fun to see little girls and old men dressing up as 'ugly Betty,'" she said.
It's obvious that she's not the only one who likes to play Betty. Who knew that being ugly would ever be so fashionable? For more pics just read more