American Idol Final 3
American Idol — It's Down to the Final 3
Last night on American Idol the contestants sang three songs each and considering the talent seemed so promising when the season kicked off, I'm left wondering why I barely care about who is left standing.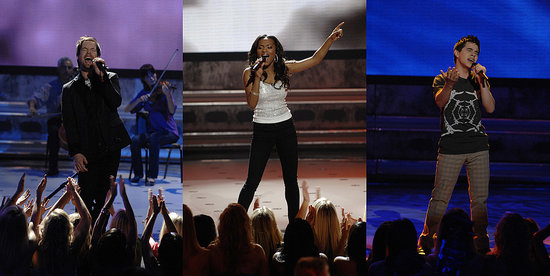 The judges praised the two Davids who will most likely duke it out next week but Syesha looked hot and sang very well. Too bad the judges basically wrote her off last night but she should be happy, she had a good run.
David Archuleta still has a great voice, but really, is this teenager going to be the next idol? Especially one that is laughable while singing Chris Brown. Simon calling him a "Chihuahua trying to be a tiger" was pretty hilarious.
David Cook was Simon's favorite and he declared him the winner of the night. At least he admitted to being a little biased since he chose his first round song and declared "Cowell and Cook" the winners. So Simon of him. The producers clearly want Cook to win too since the final song of the night was by far the best and of course their decision. For more from last night click here and don't forget to vote who you think is going home tonight.