American Idol Gets Disco Fever
Last night it was time for disco on American Idol, and thankfully the final seven managed to mix it up a bit and find their own way to take on the genre — phew. Lil Rounds kicked off the evening with a lackluster "I'm Every Woman," and the judges are so over her they barely even commented other than to say it was another disappointment. Kris Allen went next and was able to kick the energy up a notch with "She Works Hard For the Money," which got pretty great reviews across the board. Paula managed to confuse everyone, Simon especially, by saying that Kris "shopped in the women's section." Despite Paula's rambling, Simon managed to say that he loved it. Kris is getting stronger by the week, and hopefully this means we'll see him get closer to the top.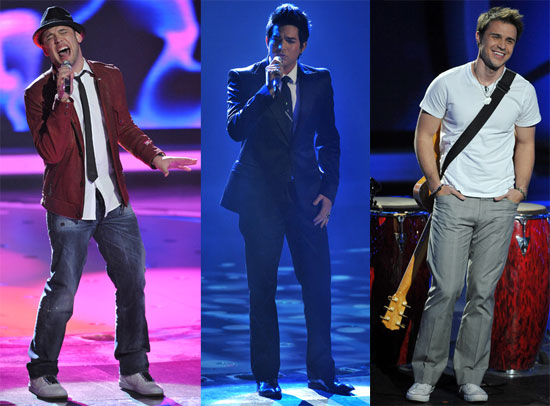 Up third was Danny Gokey, who might have a loyal following and perfect pitch but still seemed a little cheesy belting out "September." It was a wonder Allison Iraheta didn't fall over in those sky-high heels, and despite some of the judges not loving her arrangement of "Hot Stuff," Simon called it brilliant.
To read about the rest of the contestants as well as who I think is going home and lots of photos just read more.
Adam is ever the strategist and, after last week's big performance, toned it back a little bit to impress the judges with his take on "If I Can't Have You" from the Saturday Night Fever soundtrack. As usual, his vocal range impressed the judges, who sometimes seem like they're ready to give him the title right then and there, before thanking the man who helped him come up with such an inspired arrangement. Matt Giraud chose an apt song after being saved last week — "Stayin' Alive." He did his best JT impression, though it wasn't enough to wow all the judges. The final singer for the night was Anoop Desai with "Dim All The Lights." He looked great in his suit with pink tie and sweater, but in general the performance was blah. As for the bottom three? I'm thinking Lil Rounds, Anoop Desai, and Mat Giraud again. Going home: Lil and Anoop.
Check out Buzz's thoughts here and vote on which two you think are headed home.