American Idol Rocks and Rolls Its Way Through the Final Four
American Idol mixed things up again yesterday by bringing in a new ingredient — duets — for Rock and Roll night with Slash as the mentor. Adam Lambert kicked the night off with a bang singing "Whole Lotta Love." No surprise, the man knows how to perform his bell-bottom pants off. The judges loved it — especially Kara who went nuts — and Simon commented that no one would be able to top it. Next up was Allison's solo song and she chose Janis Joplin's "Crybaby." It was a little bit waily and the judges didn't love her song choice, but this time the recently made-over 17-year-old was ready to get feisty with Simon about it.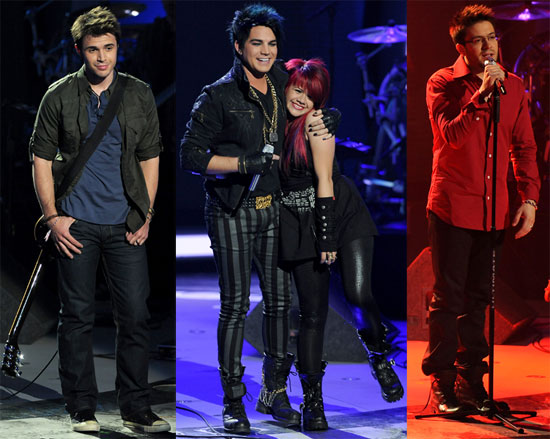 To see the rest of my thoughts as well as more photos just read more.
Danny Gokey and Kris Allen took on the first solo of the night belting their way through "Renegades" together. It was just all right for me, dawg, and the same went for the judges. After the lukewarm reception, Kris was right back on stage again choosing "Come Together," which seemed like an iffy call. He's cute and looks great playing the guitar, but the whole thing wasn't much to get excited about. Danny Gokey had his first big botch of the season — Simon called his "Dream On" a "horror film." I didn't hate the beginning, but rock is not his thing, he should have left the wailing for Adam.
Speaking of Adam, he and Allison closed out the night with "Slow Ride," which was certainly the more electrifying of he duets. Simon congratulated the duo and said that Adam may have saved Allison. As for who's going home tonight? I still think that Gokey's fan base will save him, so I'm going with Kris and Allison in the bottom two, we'll be saying goodbye to Kris. Check out all of Buzz's thoughts here and tell us, who do you think will be headed home?