American Idol Season 6: All Contestants Staying Alive
Idol Gives Back was a great concept and we're glad they raised millions (final amount still being tallied) but the show was a little bit of a disappointment. Well I guess the duet was the biggest let down. The 6 contestants were psyched for the non-elimination round. I know I can't wait to see 2 drop off next week. Buzz predicted they would be spared an elimination and it looks like she was right. As for the highlights of last night - Gwyneth Paltrow's body! Damn those workouts have paid off! Also Sarah Michelle Gellar - stop teasing us. The loose top and non full body shots just make us think there's something brewing in that tummy. Finally, you gotta love Simon with the Simpsons. See he is a good sport.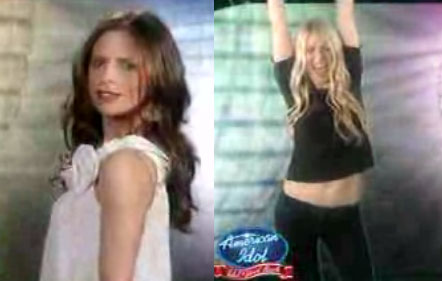 To check out the celebs singing Staying Alive and Simon trying out to be AI Simpson just read more
Karaoke time!
Simon and the Simpsons!