American Idol Top 10
American Idol Top 10 Baby!
A contestant born in the '90s — OMG, really, he's a baby. Anyway, more reason to love Michael Johns. My early favorite finally got his groove back last night! He sounded strong like he was back in the early auditions when he wowed us.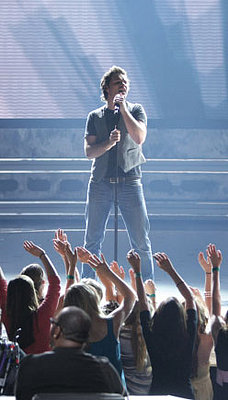 Other notables: Rocker David Cook continued to impress. I thought Simon might bash him since he never seems to like Michael Jackson songs, but Cook's version was unique and he pulled it off, so no doubt he will be around next week. Also safe is David Archuleta. Although Simon wasn't into him, he's got his hardcore fans.
As for the ladies, top choices again are Brooke and Syesha. As for Jason, as I write this I can't even remember his performance. I think he is getting boring, so hopefully next week he'll be more exciting, since I would love to see him stay in the competition for a while. Oh, also safe: Kristy Lee Cook, who continues to look hot and this week even impressed the judges with her voice. Nice improvement for KLC.


Bottom three — Looks like Buzz and I agree that they will include the adorable but just not as strong Ramiele, Chikezie, and Carly. I sadly think one of the first two will be saying goodbye, while I wish Carly would be the one sent home.
Click here to see more about last night's show and vote for who you think is going home.