American Idol Top 10 Men
Chikezie Chikezie Chikezie and OMG Robbie Got a Wig!
American Idol was a rollercoaster last night. At first I was just disappointed that two of last week's strongest contestants kicked off the show with weak performances. Lucky for us it wasn't a complete waste of a night, since the final acts were very entertaining. Here's my two cents: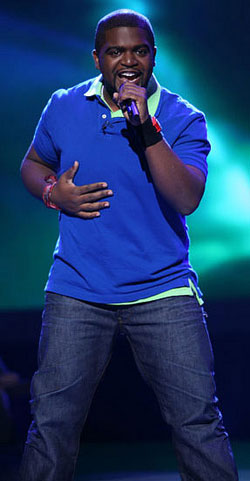 Michael Johns was off the entire song.
Jason Castro was just OK.
Luke was the most improved from last week, but sadly after he performed, the show stalled big time. The acts in between Luke and Chikezie were basically forgettable.
Side note: OMG fake rocker Robbie wears a wig. No wonder Simon has been hinting to the audience that he is a fake.
Chikezie was the first fun performance, and he nailed the vocals. Besides, I just love saying his name. I'm not sure why Simon has such a hard time spitting it out since it's so much fun to say. I also loved the playful banter with Simon — always a crowd pleaser when done right . . . unlike David Cook.
Cook's song was good, but the awkward exchange with Simon at the end killed it for me.
Finally, David Archuleta is the cutest thing ever. I just want to go squeeze him. He clearly has the best voice of all the men last night, and he's only 17. Very impressive indeed!
For more AI goodness check out Buzz's fun recap and don't forget to vote on who is going to get booted this week.