American Idol Top 12 Women
Last night American Idol was a step up from the night before, but there were still some stale performances. I'm thinking the four to go tonight are Garrett Haley and Jason Yeager for the men and Amy Davis and Kristy Lee Cook (although she is hot, so she may get enough votes to slip by). My favorites from last night include cute Brooke. She is so Tori Amos, but all sunshine and happiness, which is obviously something we love here. While Brooke was not the strongest performance last night, she was still a pleasure to watch.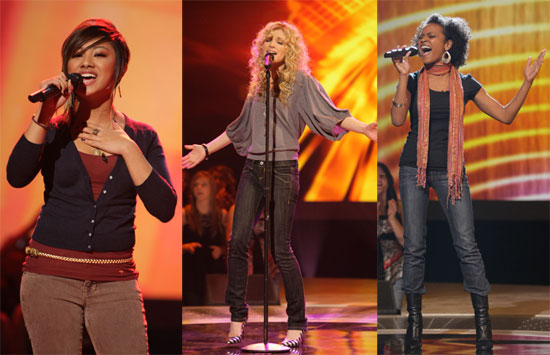 Asia'h and Alexandrea were two who pleasantly surprised me, but it was adorable Ramiele and spicey Syesha that I enjoyed the most. Katy may have that Britney impression down cold, but we're hoping she steps it up next week since she may be in trouble from last night's performance. Carly got the sweet last spot and did well, but her cold held her back. Boo hoo. We're expecting more and it's on, so step it up ladies! For lots more of last night's show, click here and don't forget to vote on who you think will be gone after tonight.