Finally a men's show that really entertained! It started a little slow (bye bye Luke) but cutie Danny Archuleta showed off his voice again, and the show picked up. Here's what else I loved about last night: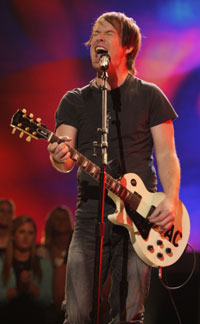 Danny Noriega, what can I say? I love the sass.
David "Stripper" Hernandez — Celine Dion, really? Yes, I know Meatloaf also sang it, but all I saw was Celine (bye bye boy).
Michael Johns, the Jim Morrison wannabe, was an early favorite, but as expected, he's starting to fall behind as the others improve. Luckily he sang the song from The Breakfast Club, so of course we loved it.
David Cook — minus the hair — wow! Love the Lionel and so happy Simon liked it too! Not sure we needed to know they were just at Whole Foods this weekend buying carrots, but whatever.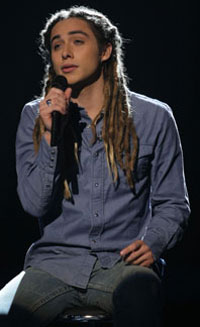 Jason Castro — winner of the night! That song is insane, and he nailed it. All I could think about was my beloved OC and Seth and Summer and of course Marissa's death and that season one finale. Yes, loser = me, and Jason = awesome.
Finally, Chikezie didn't deserve the last spot, but I think he was still strong enough to secure a spot for next week.
I'm so glad we filtered through the untalented to get to this point. Next week will be even better when hopefully Luke and David are gone.
Check out more from last night's show here and don't forget to vote for who you think is getting the boot.