American Idol Top 9
American Idol Dolly Night
Tonight on AI, apparently there was more drama than from Simon's usual disgust. Ryan's knee issues and David Cook's post-show hospital trip make it sound like more exciting stuff was going on behind the scenes than on the actual show. Simon was pretty much let down by most of the contestants, and we have to say for this point of the competition, we'd hope for better performances also. Maybe I'm still bitter Chikezie got the boot last week.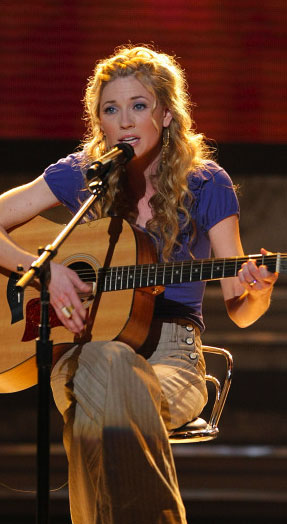 As for this week:
Michael Johns continues to be one of my favorites and was clearly the highlight of the night!
Jason Castro was good again for the first time in a while.
Syesha ended on a high note (literally), but she should really stop trying to be the next Whitney 'cause she's so not close.
Brooke was good, but the best part of her last night was her makeup — so pretty!
No one could tell David Cook wasn't feeling well, since his performance was excellent.
I am over David Archuleta, but he was good and he isn't going anywhere for a while.
Kristy Lee looked pretty but for someone who was excelling in country music, she didn't impress me this week at all.
Bottom three: Ramiele, Carly, and probably Kristy Lee Cook, and of these three, I would not be sad to see any of them go home.
Click here to see more about last night's show and vote for who you think is going home.