Andrew Garfield Dating Emma Stone
Emma Stone and Andrew Garfield Are Dating — Cute Couple or Too Convenient?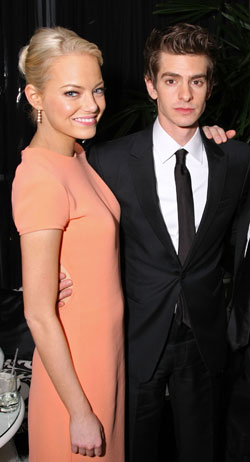 Rumored new couple alert — according to a report, Emma Stone and Andrew Garfield are dating! The duo apparently got close after filming The Amazing Spider-Man ,and things have been heating up ever since. Andrew split from Shannon Woodward in May, and Emma was also single following her relationship with Kieran Culkin. Emma and Andrew made an adorable costar couple when they shared scenes on set, and the duo stuck together in real life earlier this month at the MTV Movie Awards, where they allegedly also got cozy at an afterparty.
Emma and Andrew are both young, hot, and single, but they also have projects to promote with Emma's three movies coming out this year and their action film hitting theaters in 2012. So we want to know what you think — are Emma and Andrew a cute couple or is the timing of their hookup just too convenient?