We're not at all shocked to hear this... Brad and Angelina's rep have denied that the two have any plans to get married this month. Last week it sounded like the Jolie-Pitts may have changed their minds about marriage, but their rep has said this report was all made up. US Weekly reports: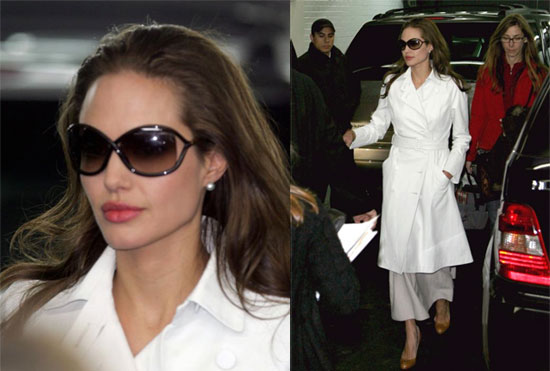 Brad Pitt's rep denied late Friday that the actor is planning to wed Angelina Jolie in Johannesburg. "It's all made up," the rep told Us Weekly.

A tabloid reported this week that the couple would wed in South Africa in a simple and elegant ceremony with African music. Guests attending, according to the report, included Oprah Winfrey. "Oprah would not be invited to their wedding. They are not that close," a source close to the couple says.
Who knows if these two will ever get married. They seem pretty happy just the way they are. More pics of Angelina looking fab in her Tom Ford Sunglasses, just read more