Angelina Jolie and Brad Pitt Marriage Rumors
Do You Think Angelina Jolie and Brad Pitt Will Get Married This Summer?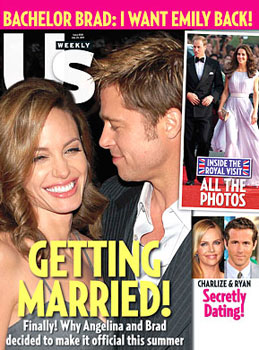 Brad Pitt and Angelina Jolie may get married in the coming months, according to Us Weekly's latest cover. The rumored ceremony between Brad and Angelina, who have been together since 2005 and have six children, would be intimate and casual say sources. Angelina revealed in a recent interview that the kids have started asking questions about whether she and Brad will wed and that the institution seems to be becoming more important to them. In the past, Brad has publicly stated that he won't tie the knot with Angelina until gay marriage is legal, though he did release a statement when NY recently legalized same sex marriage. He said,
"It is encouraging that New York has joined the movement to grant equal marriage rights to its citizens. But it is each American's Constitutional right to marry the person they love, no matter what state they inhabit."
There have been plenty of Jolie-Pitt wedding rumors in the past, but tell us what you think of the latest round — do you believe they'll make things official or have you heard this story before?