Angelina Jolie Interview on In the Land of Blood and Honey
"Failed Painter" Angelina Jolie on Defying Rules, Clint Eastwood, Defining Success
Angelina Jolie's directorial debut In the Land of Blood and Honey, a love story set during the Bosnian War in the '90s, opens here in the US on Friday. She was in NYC earlier this month doing press for the film and joined her cast for a press conference at the Waldorf Astoria. Leading ladies Zana Marjanovic and Vanessa Glodjo, as well as actors Goran Kostic and Rade Serbedzija, sat with Angelina on a panel moderated by NPR's Tom Gjelten. The conversation was all about the movie, with Angelina speaking about the process of creating the script with input from survivors. She also touched on the directors she has learned from and the challenges of making a movie in a foreign language. Angelina said: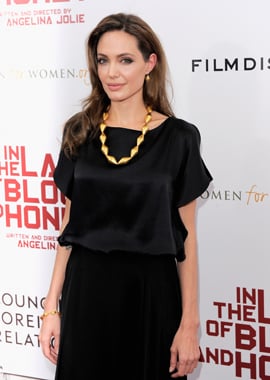 On learning about directing: "You learn from everybody. Clint Eastwood taught me a lot about working with people that you love, that you think are great people, and making a family — working with nice people, good people. He's also very fast, so I had to learn about the economy of a shoot and a budget."
On deciding to make the movie in Bosnian and English: "When you want to do a film about this subject matter, many people tell you, 'Well, you're going to have to do a lot of different things in order to get people to see this.' One of them being, English, and the other being you're going to have to cast people who people recognize. We decided to do neither."
On how she'll define success for the movie: "We had a very low budget, so we're starting at a good base. It's gonna be alright I think . . . I hope it's received as a film. I hope people see it as a piece of art as well. I hope the actors involved are recognized for being extraordinary actors. So my fingers are crossed for that."
On the importance of art themes in the film: "I think Zana and I are both failed painters. We both tried to paint. I would have loved to be a painter. This part of the world — they're artists. During the siege, a film festival started under the siege of Sarajevo! Plays were put on, art was made. It was their art that just stood stronger and stronger while they were being starved and shot at. Art is representative of the region. As a woman and an artist it was a beautiful tool to express the internal side of a character."
To read what Angelina said about her road to making the movie, using real-life stories from the cast in the plot, and finding her directorial voice, just read more.
On her journey to create the movie: "When first I approached this film, I didn't plan to direct anything. I didn't approach this because I wanted to make a movie. I'd been haunted for years of traveling in the field by a lack of intervention, by the trauma people faced in postconflict situations, and my frustration in seeing their pain and wondering if we could have prevented this — if we could have done something before — and violence against women, by man's inhumanity to man, all of it. And so, I sat down privately to write something and it led me, clearly, to Bosnia, because it was a war of my generation, to my generation, and it was one that I felt a responsibility to learn about because I didn't know. And the more I learned, the more I was overwhelmed by the guilt of how little I knew."
On using real stories in the script: "I was shocked by how long this went on and what was going on . . . many who lived through the war didn't speak about it, or hadn't spoke about it. So I was asking them to remember things. And of course you feel guilty asking people to go back into their memories."
On how her cast helped the script evolve: "It started with me questioning, 'Well, what if it were me? What if it were me and my family? What if it happened tomorrow? What would I do? How long would it take . . . what would have to happen before I broke and changed, and how would I behave?' So that was the meditation through it, and then I wrote it as best as I could. But then I started to send it out to everyone, and we all really worked on it together. Everybody here knows this history better then I do. They lived through this history, they physically were under attack themselves on different sides of this conflict, so they would tell me — they filled in the story and they enhanced it. They helped me to put the film together."
On finding her voice as a director: "I've tried to find a voice and I've tried to — through this film, and with other women and men who have gone through conflict — to discuss these bigger themes of war and intervention. This film is not about a couple, it's not about one woman, and it's not just simply about these things. It's not simply about violence against women. It is about how human beings are changed, and how they break down when surrounded by such horror and such ugliness and hate. And how even decent people are broken. I did this so we would have these questions and discuss this and talk about the wars going on today, things that could be happening tomorrow."