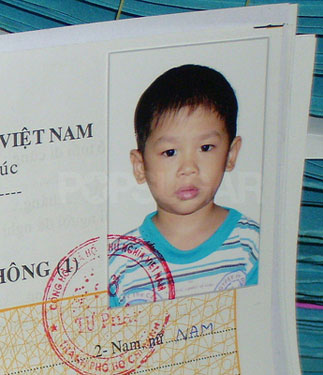 Needless to say, Pax Thien Jolie-Pitt [0] (whose name is the Latin word for peace, Pax, and the Vietnamese word for Heaven, Thien) is entering a world beyond his wildest imagination. While Angelina and Brad's adoption efforts are indeed admirable, even the stars recognize that there is a downside to their child's new life -- the almost inescapable spotlight. In an interview with a Vietnamese newspaper, Angelina talked about introducing their new son [1] to fame, "Pax is only three years old and he (has) spent his childhood in the orphanage," said the actress. "I want to say sorry for bringing this into Pax's life." While the constant cameras may be a difficult part of the transition, Angie obviously feels that giving this child a stable home is the most important thing.
She also spoke about her plans to take some time off from acting to spend with her children (and overcome the language barrier with Pax), "I will stay at home to help Pax integrate into his new life...I have four children, and caring for them is the most important thing for me right now. I am proud and happy to be their mother." Well, we'll see how long she can resist work, but until then, I'm sure the kids will be happy to have her around.
As for bringing little Pax Thien home, it sounds like there are only a few more formalities to get through before Maddox, Angelina, and the newest Jolie-Pitt are back in the states. We can't wait to see the whole family together!
To see little cutie Pax's new passport pic just read more
Source [2]