Angelina Visits Refugee Camps in Thailand, Issues Plea
Angelina Jolie Visits Refugee Camps in Thailand, Issues Plea
After bringing the whole family to Japan last week, Angelina took a detour before heading home. As part of her UNHCR United Nations Human Rights work, she traveled to Thailand to pay a visit to the camps filled with Myanmar refugees, some who have been there for their entire lives. Angelina sat down to talk to refugees, including teenage girls and young women very scared about what their future holds. Today Angelina released a plea to the government of Thailand to allow the refugees the ability to leave camps and move more freely in the area. She said of the people she met,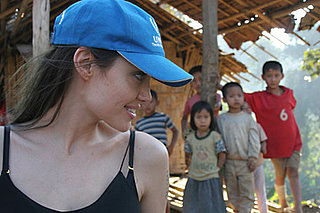 "I was saddened to meet a 21-year-old woman who was born in a refugee camp, who has never even been out of the camp and is now raising her own child in a camp . . . With no foreseeable chance that these refugees will soon be able to return to Burma (Myanmar), we must find some way to help them work and become self reliant."
There are currently 110,000 registered refugees in the nine camps, and at this point, they are not allowed to leave the camps. This is about as far away as you can get — in so many ways — from the Oscar red carpet she'll be walking in just a few weeks, but from Angelina Jolie we expect nothing less and know her real passion lies in her UN work. For more about the situation in Myanmar, visit UNHCR.org.
Photo courtesy UNHCR