Anna to Help Models Gain Weight?
Anna Wintour joined Renee and Ewan for the NY premiere of Miss Potter over the weekend. Renee is looking fabulous lately while promoting her new film. She seems to have traded in her stick thin figure for a more healthier one. Maybe the underfed look is on its way out. LL is no longer too thin, and even Nicole is working on gaining her weight back (of course, they both have their share of other problems to deal with). And Anna herself is even joining the cause. She's already called a meeting with the leaders of the fashion industry to discuss how to deal with the issue. Here's more: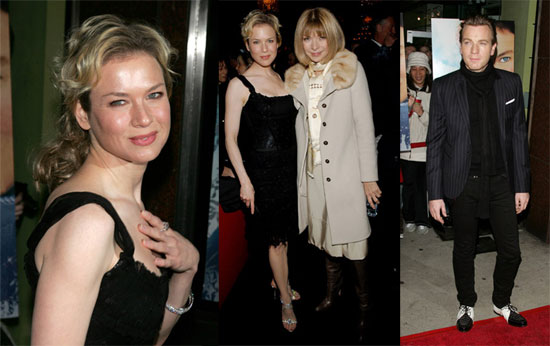 Vogue Editor-in-Chief Anna Wintour is spearheading the effort to get the session together. "Anna held a symposium on the issue, and she's planning another meeting this week," said one model agency chief. "We would much rather come up with a way of self-policing ourselves than have regulations rammed down our throats."

The head of another modeling agency said, "Everyone should take a look at it, and if there's a problem, let's fix it."

Italy's government and its fashion chiefs said last week they're working on a plan to crack down on ultra-thin models who appear to be suffering from eating disorders.

The move came three months after Spain passed a law requiring that every model have a body-mass index of at least 18 (a measure of body fat). Last month, Brazilian model Ana Carolina Reston died at age 21 from anorexia.
Hopefully this is just another step in getting the fashion industry and those who follow it out of this dangerous trend. For more pics of the premiere just read more