Anna Kendrick on Jake Gyllenhaal Quotes From 50/50 Junket
Anna Kendrick Says Working With "Open" Jake Gyllenhaal Is "Great!"
Anna Kendrick stopped by the Toronto Film Festival last week to chat about her new movie 50/50, in which she plays a young psychologist working with Joseph Gordon-Levitt. We sat down with the actress to chat about her role, the excitement of Breaking Dawn coming out soon, and working on the ensemble project What to Expect When You're Expecting alongside tons of A-list stars. Anna recently wrapped up shooting End of Watch with Jake Gyllenhaal, and the two were spotted cuddling close off hours, so we asked Anna what it was like working with the heartthrob. Here's what Anna had to say: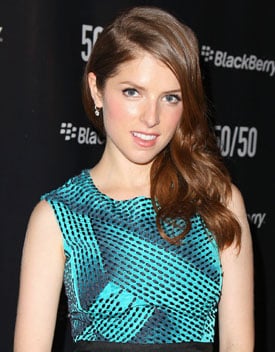 "[It's been] great! He is one of the most open actors I've ever worked with. The whole set was crazy, since we were basically shooting it as though it was home movies. We didn't stop shooting it; there was hardly a second between takes where somebody didn't pick up one of the hand-held cameras. We just start shooting each other, which was a completely new experience for me but really exciting."