Anna Kendrick Tweets About Celebrity Crush
The Funniest Celebrity Tweets of the Week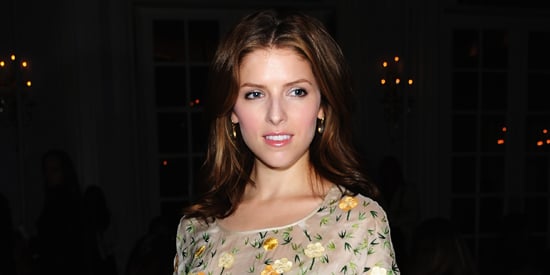 We scoured Twitter for the most hilarious tweets of the week, and what we found was a little bit disturbing. Anna Kendrick admitted the most bizarre celebrity crush we've heard in a while, while comedian Whitney Cummings will do anything to avoid actively driving while she's behind the wheel. Also, Olivia Wilde forced us to picture a world where Claire Danes's character on Homeland isn't a hot mess.
Check out all that and more in our favorite funny tweets from the week!
Well, you know what Tim Gunn always says. "Make it work!"
I wish I were a gay man so I could date Tim Gunn.

— Anna Kendrick (@AnnaKendrick47) October 17, 2013


Those poor souls. Never got to experience the refreshing taste of artificial sugar.
Whenever I get depressed it helps to remember I am better off than the billions of dead people who never got to drink Dr. Pepper.

— Michael Ian Black (@michaelianblack) October 17, 2013


I mean, would you eat it if it was called "Somewhere-in-the-middle Ramen"?
Is "Top Ramen" really the 'top' ramen? They all taste the same really.

— RainnWilson (@rainnwilson) October 17, 2013


Eating and driving is way more dangerous, trust me.
Fine I will not text and drive-there are plenty of other things I could be doing

— Whitney Cummings (@WhitneyCummings) October 17, 2013
Check out the rest of the funniest tweets when you read on!


Does anyone want to head over and check up on Chrissy Teigen? Anyone?
I just tried to take a picture of a smell I think I'm dying ?

— christine teigen (@chrissyteigen) October 16, 2013


It must have been an equal triumph when someone came up with "Dirt Devil."
I can only imagine the excitement in the room when someone came up with the name "dustbuster"

— Jimmy Kimmel (@jimmykimmel) October 16, 2013


C'mon, Olivia, it's way more fun to watch her have constant meltdowns!
Homeland writers, how about we just have Carrie take her meds, take over the CIA, annihilate Dana, and solve puzzles all day?

— olivia wilde (@oliviawilde) October 16, 2013


Something tells me suspecting everyone is the opposite of helpful.
If there's a murder on my block the police should come talk to me because I've already suspected everyone.

— Lena Dunham (@lenadunham) October 15, 2013


It would probably be the best thing the government ever did, in our opinion.
The shutdown is over. Now it's time for the government's grand reopening! I hope they have one of those inflatable dancing wind puppets.

— Ellen DeGeneres (@TheEllenShow) October 17, 2013


Bonus points if you binge watch a season in less than a week.
You never feel closer to your spouse than when you're binge watching a tv show together.

— Busy Philipps (@Busyphilipps25) October 17, 2013


That's deep, girl.
Botox doesn't make you look young, it makes you look like you think you're old.

— kelly oxford (@kellyoxford) October 17, 2013


That sounds nothing like any other Wes Anderson film I've ever seen!
New Wes Anderson film is called "Grand Budapest Hotel." Odd; that sounds sprawling, ornate & emotionally forbidding.

— rob delaney (@robdelaney) October 17, 2013