Anna Nicole Gets Married!
Anna Nicole and her attorney and father to her baby girl, Howard K Stern, got married this morning in the Bahamas. Star Magazine reports that these two wed on a 50-foot catamaran. Afterwards the wedding party celebrated with a swim party and Dom Perignon. Congrats to the happy couple! Glad they have some more happiness in her life after their recent sad event of losing Daniel. Here's more: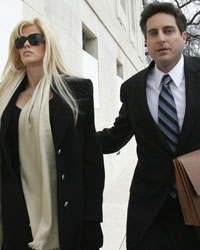 In a world-exclusive report, an eyewitness tells Star that Anna, 38, and Howard, 37, tied the knot shortly before 10:30 am on the morning of September 28, while sailing on a white catamaran off of Nassau! "There was heavy security around the yacht, plus extra speedboats to deliver more supplies as needed (including unlimited Dom Perignon champagne) from the mainland to the catamaran," says the eyewitness, who adds that the wedding party celebrated the union afterwards by having a swim party around the yacht — "and Anna was wearing a pink bikini! Later on, she changed into a colorful, one-piece suit with a wrap around her waist."

Two days before, on September 26, Stern appeared live on the Larry King Show via satellite from the Bahamas, to announce that he was the father of Anna's newborn daughter Danilynne Hope, that he and Anna "love each other" — and that the duo would get married "at some point."

Apparently, that point arrived much sooner than later. A source adds: "Stern was making all the arrangements in the days before the wedding."