Anna Nicole Marries For Money Again?
Anna Nicole never ceases to surprise us. Like everyone else, we feel really bad for her these days since she lost her son, but we were genuinely happy for her when we heard the news last week of her marriage to her attorney and supposed father to her baby girl, Howard K. Stern. Now it seems as if the marriage may have been a ploy for more photography royalties from the gossip mags. It might not have been a wedding but a simple commitment ceremony. Radar is reporting that "a well-placed source in the celebrity magazine market says People paid Getty Images close to $1 million for photos." Here's more: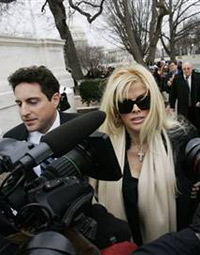 According to the source, Smith and Stern did not actually get married, as a report on Star magazine's website claimed, but merely held a commitment ceremony. "They clearly staged this as a money-making thing," adds the source. "They just decided to create another photo op." So why did People buy in? Perhaps because it got beat on the newsstand the previous week by In Touch, which shelled out a reported $400,000 for the last photos of Smith's son Daniel.
A story like this only makes you want to not feel bad for Anna Nicole anymore. It seems like things always have to do with money with her. We hope she is feeling better but let's hope all that money goes to some charity.