Anna Nicole Now Has Pneumonia
Anna Nicole's attorney says she has come down with "a slight case of pneumonia." She is being treated at the same hospital where her son Daniel died in September. It seemed like Anna Nicole had been feeling better. She had even given her first interview since Daniel died to ET's Mark Steines. He reveals on his blog, however, that she is a "veritable rollercoaster of emotions." In the interview he says: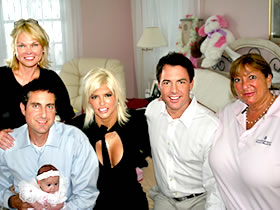 She giggles like a schoolgirl when she talks about the first time she realized she was in love with Howard. She beams like a mother when she holds little Dannielynn and says, "Can you say mommy?"

But it is when she utters the name of her son, DANIEL, that Anna Nicole is no longer able to compose herself. She crumbles like a house of cards, tears pouring out of her eyes, her body shaking from the sobbing. This is not just a controversial, misunderstood woman, this is a mother who has lost a child.

I have done quite a few interviews over the years for ET and I have never seen the level of heartbreak I witnessed in the Bahamas
The interview airs on Thursday on ET. The whole thing is just so sad. No wonder she's gotten sick. Maybe she should just stay out of the press for a little while.