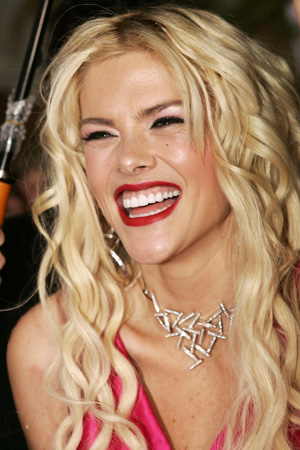 After the tragic news early this afternoon, we know tons of you are wondering what will become of the many loose ends in Anna Nicole Smith's life. Here is a quick look at what has emerged as of yet:
The autopsy is scheduled to take place tomorrow.
Anna's Lawyer/Husband/Boyfriend Howard K. Stern has yet to make a statement.
At the time of Anna's death, she was with her nurse. Her bodyguard was also there and performed CPR on her before the paramedics arrived.
Her infant, whose paternity is still in question, Dannielynn is currently in the Bahamas in the care of a friend.
Larry Birkhead, the ex who claims to be the father of Dannielynn, has not issued a statement, but his lawyer has said that he is "not ok."
The ramifications this will have on the legal proceedings surrounding her late husband's inheritance have not been discussed at this time.
For statements from Hugh Hefner, PETA, The Marshall Family, Trimspa, E!, etc, check in with TMZ who are covering every move of this story as it unfolds.
While we are seriously unsettled by this story (and its eerily similar tone to that surrounding her son's death five months ago), hopefully concrete facts will emerge soon so we can get a better read of what actually happened. We will keep you updated.