Anne Hathaway Golden Globe Awards Winning Quotes
Anne Hathaway on Her "Lucky" and "Encouraging" Golden Globes Win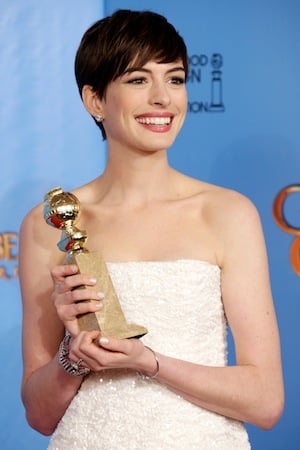 Anne Hathaway scored a Golden Globe win for her work in Les Misérables and after accepting her award with an emotional speech, she stepped back to the press room. Anne gushed about her coworkers, what it meant to take on this part, and what she's thinking about for the Oscars — taupe, she joked. Check it out:
On what this role means to her: "It's so encouraging because there's so many people out there who feel and know in their hearts they are actors or storytellers or artists and it doesn't work out. It's so encouraging [to be here]. I would be doing this whether or not anyone was watching. It makes me wonder who I send a check to."
On what this role meant to her: "I've loved the show since I was 8. I saw my mom perform this show when I was 8. It seemed like an amazing challenge to tell a story and tell the story of the desecration and redemption of a soul in 15 minutes on screen. I would have played a musket in this movie, so I was happy to be able to sing a song."
On being worried to feel typecast starting with Princess Diaries and thanking Sally Field: "I never did, but I was aware I was walking a very narrow path. I knew who I wanted to be, but I also knew it was up to me to convince people. I was very encouraged by Sally to know that if you go out there and do the work, people will listen."
On the cast and any casting controversy: "Every single person, whatever anyone thinks about it, gave everything every day. I am honored to be a part of this cast."
On Oscars feelings: "I feel lucky, lucky to be there. I've been invited to the party before and I went home without any hardware. In a way it's wonderful to win something, and it is, but I'm so honored just to be a part of it."