Anne Hathaway With Rashida Jones and Amy Poehler
Who Knew These Award-Winning Ladies Were Friends?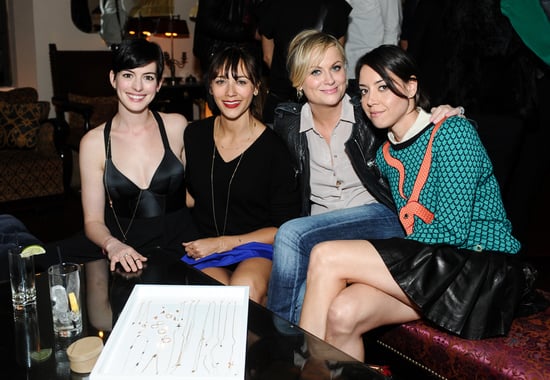 Anne Hathaway lent a bit of star support to pal Rashida Jones on Wednesday when she attended a private dinner to celebrate the actress's new jewelry collection with Dannijo in LA. Rashida's Parks and Recreation costars Amy Poehler and Aubrey Plaza also dropped by the event to check out her new baubles and mingle with Anne. Anne's party stop came just one day after she rang in her 31st birthday. She celebrated a day early on Monday with a special birthday dinner in LA with her husband, Amy Adams, and Demi Moore.
While Rashida, Amy, and Aubrey looked like they were having fun at the event, Rashida will soon be parting from the two actresses as she prepares to leave Parks and Recreation. Rashida and Rob Lowe announced their plans to depart the show earlier this year, and Rashida got emotional on Twitter while reminiscing about good times with her soon-to-be-former castmates. "My family. I will miss them too much," Rashida said while sharing an old photo of the entire cast riding in a van together.