Another Anna Nicole Round-Up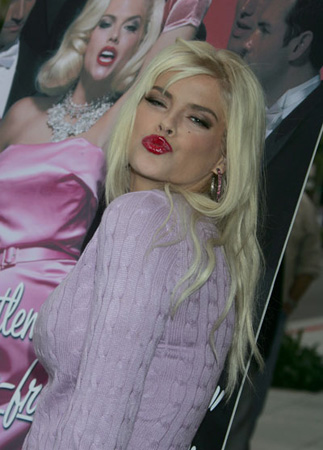 Whew, as tons of information pours in about Anna Nicole Smith's life, death, and legacy, we will continue our updates trying to sift through the mass to bring you only the important stories. The whole saga is still taking place at absolute whirlwind speed, that's for sure.
As many of you know, the final moments of Anna's life, while her bodyguard was administering CPR were caught on tape and sold for a disgusting sum of at least $500,000 to Splash News and were later broadcast on Entertainment Tonight. We're not going to link to the video, but if you're looking it shouldn't be too hard to find.
This morning's hearing did not rule in Larry Birkhead's favor and the DNA swab will not be taken; however, Anna's body will be preserved at least until February 20th when another hearing is scheduled. In the meantime, Anna's mother is on her way to the Bahamas to try and retrieve Dannielynn.
We have also learned that Anna Nicole has been suffering severe depression since the death of her son, Daniel, but was happy that she and Howard K. Stern were planning to legally wed at the end of the month. Their first ceremony in the Bahamas, performed soon after Daniel's death, was not legally binding.
Finally, more and more accounts of the scene of death are saying that it appeared like Anna suffered from a drug overdose. Of course, official toxicology results will not be available for some days. Anna's mother has spoken out as well about her daughter's past with drugs.
Howard K. Stern was interviewed by the local police last night. He was reported as being cooperative.
And the award for the most random person throwing his chips in the pile goes to: Zsa Zsa Gabor's Husband, who now claims that he is, in fact, Dannielynn's father. Uh, sure.