Anthony Weiner New York Primary Day
Anthony Weiner Goes Out With a Bang — and the Bird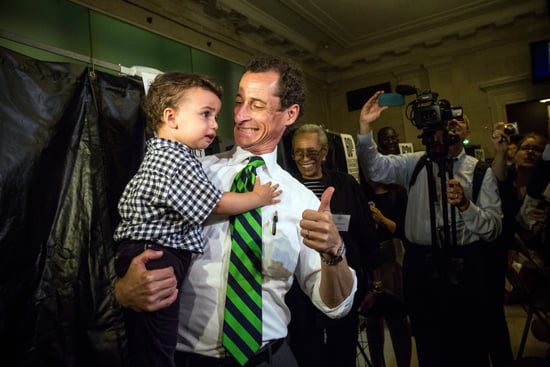 Yesterday was not a very good day for Anthony Weiner. The former congressman lost his bid to get on the Democratic ticket for NYC's mayoral race, placing fifth and only drawing in five percent of the vote. The morning of Election Day was a bright spot for Weiner, who hit the polls with his son, Jordan, by his side. (Weiner's wife, Huma Abedin, skipped the photo-op because she reportedly had to take an important phone call.) However, Weiner's day was all downhill from there.
Sydney Leathers, the young woman who went public about her sexting relationship with Weiner and his "Carlos Danger" alter ego, attempted to crash his campaign party during Election Night. She was followed by a camera crew and told reporters that she felt like she belonged at Weiner's event. (Leathers was also seen holding up anti-Weiner signs outside his campaign office earlier that day.) She was denied access to Weiner's party but later chased him through a local McDonald's following his concession speech. See the awkward moment below.
After Weiner's near-brush with Leathers, the flustered politician was caught on camera giving the finger to a local NBC reporter.
A photo of our video (on the screen in our truck) of Weiner in his car with his middle finger up. pic.twitter.com/377kUWpSq2

— Lindsey Christ (@LindseyChrist) September 11, 2013
Despite Weiner's terrible Election Day, the awkwardness began earlier this week when he gave a his final preelection interview on Monday night with Lawrence O'Donnell. The host got on his high horse to ask Weiner point-blank, "What is wrong with you?" You can watch that exchange below.
After Tuesday, Weiner is probably due for a nice break from the media and public life.