Anthony Weiner Scandal 2013
A Swear Jar and an Apology — the Latest on Anthony Weiner's Sexting Scandal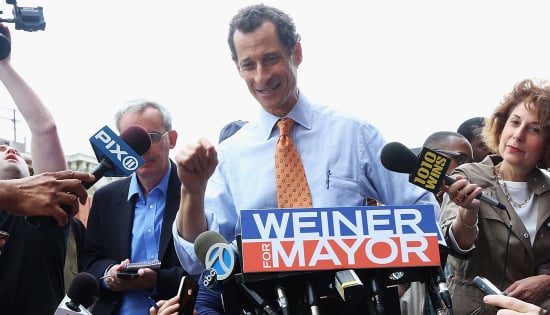 Anthony Weiner found himself embroiled in yet another sex scandal last week when he admitted that he had engaged in around three online relationships with young women. If that story sounds familiar, that's because it is: Weiner made headlines — and became the butt of many late-night hosts' jokes — two years ago when he was caught sending explicit photos of himself to young women through Twitter. Since then, Weiner has asked for forgiveness and has entered back into the public sphere through the NYC mayoral race. To get everything you need to know about Weinergate 2.0, just keep reading.
The Previous Scandal
Back in June 2011, Weiner resigned from Congress after he shared an explicit photo of himself over Twitter. The message was intended for a young woman who was following him on the social networking site, but Weiner accidentally made it public before promptly deleting the photo. After he initially denied the photo's existence, another woman came forward with sexually suggestive pictures of Weiner that she said he had sent her over the Internet. He later admitted that he had exchanged sexually suggestive messages and photos with about six women over the past three years. Weiner eventually stepped down from his public position with his wife, Huma Abedin, staying by his side. During the scandal, which was dubbed "Weinergate," it was revealed that Abedin was pregnant with the couple's first child. They welcomed son Jordan Weiner in December 2011. Weiner stayed out of the political sphere until he announced in May that he would be running for mayor of NYC.
The Sexts
Last week, gossip site The Dirty revealed that Weiner had engaged in an online relationship with a 22-year-old woman. The pair connected through Facebook and Formspring, a question-and-answer social networking site. According to the woman, the pair started talking in July 2012, and he had promised to buy her a condo in Chicago and get her job at Politico, a popular political-news outlet. The woman claimed that he emailed her sexually explicit photos of himself from an email alias called "Carlos Danger." By November 2012, their relationship reportedly fizzled, but he did contact her again on April 11, 2013, to ask what she thought of a New York Times article that was written about him.
Read on for more about the latest scandal.
The Woman Who Came Forward
While the woman didn't reveal her name on The Dirty, BuzzFeed identified her as Sydney Leathers, a progressive political activist from Indiana. According to her Facebook profile, which has since been deleted, she listed Weiner as one of her heroes and, back in 2011, claimed that he could "continue sending d*ck pics every single day for the rest of his life as long as he continues to legislate like he does." She also said he should not resign as he "did nothing worth resignation." When she spoke with The Dirty, she said she wanted to share his story because of his current mayoral campaign in NYC. She said, "All of his campaign promises about being a changed man are absolute lies." She did note that she never had sex with Weiner and never received any campaign funds from him.
On July 25, Leathers went public with her story on Inside Edition and revealed that she felt "manipulated" by Weiner, saying, "I don't know who the real Anthony Weiner is, I guess." Watch a clip from Leathers's interview below.
Leathers also sat down with Howard Stern for an interview on July 30, and she definitely didn't hold back. She revealed that although she never met Weiner face to face, the candidate told her he was in love with her. Asked about the sexy pictures Weiner sent her, Leathers said she was "baffled that someone so book smart could be so stupid in life." She also called him "clingy," like a "needy girlfriend," and said that in speaking out, she's "being a good American citizen." Hear more about her relationship with Weiner in the NSFW interview below:
His Admission
Weiner admitted that he had engaged in a sexually charged online relationship with the woman in question on July 23. He said, in a statement:
I said that other texts and photos were likely to come out, and today they have. As I have said in the past, these things that I did were wrong and hurtful to my wife and caused us to go through challenges in our marriage that extended past my resignation from Congress. While some things that have been posted today are true and some are not, there is no question that what I did was wrong. This behavior is behind me. I've apologized to Huma and am grateful that she has worked through these issues with me and for her forgiveness. I want to again say that I am very sorry to anyone who was on the receiving end of these messages and the disruption that this has caused. As my wife and I have said, we are focused on moving forward.
Weiner also gave a press conference later that day where he spoke about the sexts and declared that he had no plans to step out of the mayoral race. Watch the press conference below.
His Wife
Abedin spoke at Weiner's July 23 press conference and said that she will be standing by Weiner through his newest scandal. She said, "Our marriage, like many others, has had its ups and its downs. It took a lot of work and a whole lot of therapy to get to a place where I could forgive Anthony. It was not an easy choice in any way, but I made the decision that it was worth staying in this marriage. That was a decision I made for me, for our son, and for our family."
Abedin, who has been a longtime personal aide of Hillary Clinton, married Weiner in July 2010. Former President Bill Clinton presided over the wedding. She has been hitting the campaign trail with Weiner in the Big Apple, but until the July 23 press conference, she had never publicly addressed an audience.
There Are More Women
On July 25, Weiner admitted that Leathers wasn't his only online relationship. In fact, Weiner guessed that he had online relationships with three women since his resignation from Congress in 2011. He said, "I don't believe I had any more than three. There were a few [total women]. I said at the time of my resignation there have been six; I don't think in total there are any more." Weiner also said that he wouldn't name any of the women that he had these relationships with, saying, "These were people I never met. These were anonymous people on the Internet."
Drama Over His Former Intern
Barbara Morgan, the communications director for Weiner's campaign, spoke out after Olivia Nuzzi, a former intern, shared details about the campaign in the press. Angry about Nuzzi's comments and Weiner's dropping poll numbers, Morgan went on a rant that went viral on July 30, saying, "I'm dealing with like stupid f*cking interns who make it on to the cover of the Daily News even though they signed NDAs," adding, "F*cking slutbag. Nice f*cking glamour shot on the cover of the Daily News. Man, see if you ever get a job in this town again."
Morgan later apologized for her remarks in a statement, claiming the conversation wasn't on record. "In a moment of frustration," she said, "I used inappropriate language in what I thought was an off the record conversation. It was wrong and I am very sorry, which is what I said tonight when I called and emailed Olivia to apologize." She also offered a more lighthearted apology with a tweet and a picture of her swear jar:
Not my best day yesterday. Should've known better, been better. Gotta pay up. pic.twitter.com/aUaoE9JFo0

— BarbaraKMorgan (@BarbaraKMorgan) July 31, 2013
Will He Drop Out?
During his July 23 press conference, Weiner said he would not be dropping out of the mayoral campaign, despite numerous calls for him to do so. His campaign manager, on the other hand, did step down — on July 28, Weiner's camp confirmed that his campaign manager, Danny Kedem, had resigned. His rivals Bill de Blasio, Sal Albanese, and John Catsimatidis have all publicly stated that Weiner should drop out. His biggest rival and Democratic front-runner Christine Quinn stopped short of asking Weiner to step down but did complain about the "sideshow" he brought to the race. She said in a statement, "The circus that Mr. Weiner has brought to the mayor's race these last two months has been a disservice to New Yorkers who are looking for someone who has the judgment and maturity to lead this city and a record of actually delivering real results for them."
A devastating blow to Weiner's campaign came on July 23, when The New York Times posted an editorial on the scandal, saying that Weiner "should take his marital troubles and personal compulsions out of the public eye, away from cameras, off the Web and out of the race for mayor of New York City." Despite all the public outcry, it may be hard to get Weiner to drop out of the race. Back in 2011, he refused to resign from office and only did so after top Democratic officials, including Nancy Pelosi and President Barack Obama, publicly urged him to step down. If he chooses to not drop out of the mayoral race, the fate of his campaign will be determined on Sept. 10, when the Democratic primary elections take place. If Weiner wins the primary election, he will face off with the Republican candidate on Nov. 3.
As more drama continued to unfold, Weiner announced again on July 30 that he would not be exiting the race — this time in a video posted on his campaign website. "'Quit' isn't the way we roll in New York City," he said, adding, "We fight through tough things. We are a tough city." See more of his comments in the video below:
Could He Still Win?
At first, Weiner may have had a good reason not to suspend his campaign, as a key poll showed that he was in the lead for the Democratic primary in the mayoral race. On July 24, a Quinnipiac poll showed that, of likely Democratic voters, Weiner was leading with a 26 percent share of voters. However, following the press conference and admissions of multiple relationships, a new poll from Marist, The Wall Street Journal, and NBC4NY revealed that Weiner dropped in the polls, falling to second place with a 16 percent share of voters compared to Christine Quinn with a 25 percent share. Still, the polls have been shown to have contradictory results throughout this year's mayoral race. Several recent surveys, including one from The New York Times and Siena College, showed that Quinn was leading over Weiner, although he was still in second place.