Ariana Grande With Nathan Sykes in London
Ariana Grande and Nathan Sykes Fight Back Against the Haters in London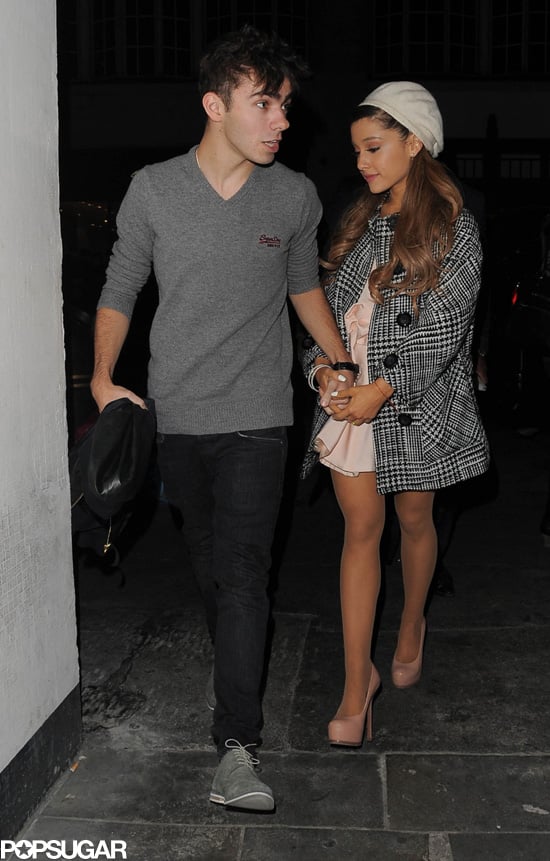 Singer Ariana Grande and The Wanted's Nathan Sykes went out for a dinner date at Sushi Samba in London last night. The young couple's night out marks their first public date since Nathan confirmed their relationship on Twitter back in late September. It's also Ariana and Nathan's first outing together since Ariana's ex-boyfriend, YouTube comedian Jai Brooks, claimed that the singer cheated on him with Nathan while they were still dating. Jai posted a lengthy rant on Twitter earlier this week, writing, "Yes I was cheated on. Yes it does suck. Yes I was left for another man."
Ariana has denied Jai's claims, explaining that he had threatened to tarnish her reputation if she didn't get back together with him. Ariana wrote, "You said to me if I didn't come back to you, you'd make me look bad to the entire world . . . I'm no longer afraid of you or your lies anymore. I'm going to be the lady my mother raised and carry myself with class and dignity . . . But I will never be any man's press opportunity."
Despite the issues with her ex-lover, Ariana has a lot to celebrate this week. The singer was nominated for an American Music Award earlier this morning, and she's currently on a promotional tour in England.