The cast of Breaking Dawn Part 1 stopped in San Francisco as part of their promotional tour last week and we sat down with Ashley Greene, Nikki Reed, Jackson Rathbone, and Charlie Bewley, who plays Demetri, to chat about the film. With only one installment of the franchise left after Breaking Dawn Part 1 hits theaters on Friday, the actors are already looking towards the future. Ashley talked about her upcoming roles alongside Miley Cyrus in LOL and Jennifer Garner in Butter, while Charlie shared details on his romantic part in Like Crazy and almost being cast in The Vampire Diaries.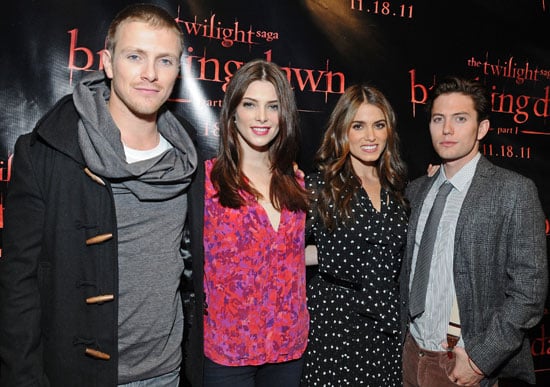 Ashley on her fans seeing her in other roles: "I think LOL is really great, it's a completely different character than Alice. She's kind of a bad girl a little bit but it's a high school film so it's still relatable. It was a fun one to do, I think they'll like it a lot. Butter is a little bit older, it's a comedy but it's a little dark. It's about butter carving in Iowa which is actually a big thing I didn't even know existed and the cast is just incredible."
Ashley on working with Kellan Lutz in The Warrior's Heart: "That was really fun. Kellan is one of my best friends so I'm always game to be able to be on set with him. It's a really nice thing — I mean I love my job and I love what I do but to be able to be on set with one of your best friends is kind of the cherry on top."
Charlie on his role in Like Crazy: "I literally turned up for three days and shot my stuff. It was strange because I had to play this guy who had a girlfriend for six months by that time and when you have an improv script everything has to come from you. So I made the decision going in that I was going to try and fall in love with Felicity Jones and it worked so well that after three days of shooting I flew to Phoenix and in the middle of the plane journey I had this feeling like, oh no, I really fell in love with Felicity on set and I had to fall out of love with her."
Ashley on working with Harry Potter's Tom Felton in The Apparition: "There aren't a lot of people who have been a part of something like this and who are going through the same things and so he was another person that I could really relate to and talk to about the whole thing. It's always so nice to see people go through things and be a part of this massive phenomenon and still remain just so sweet and so down to earth. He's such a phenomenal actor and person, it was a pleasure working with him."
Charlie on auditioning for The Vampire Diaries: "I almost got cast as Stefan, very shortly after I got the Twilight role. Thank God I didn't, because to be honest I would never, ever want to do a long TV stint like that. It's like jail time for me since I'm not a nine-to-five guy and to me that's the closest thing to a nine-to-five."