Ashley And Lance Both Celebrate The New New Museum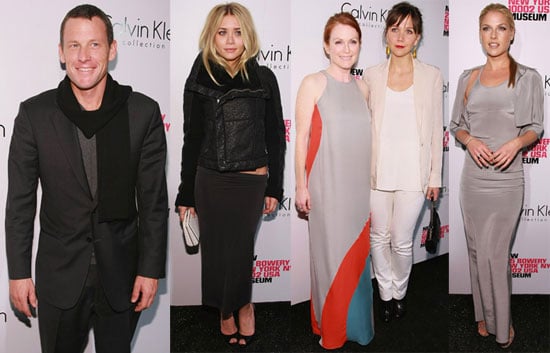 0
Ashley And Lance Both Celebrate The New New Museum
The New Museum in NYC celebrated its grand reopening last night, co-hosted by Calvin Klein and attended by some lovely ladies...and Lance Armstrong. I don't want to make any assumptions (yes I do), but Ashley and Lance at the same party — where Mr. Armstrong could seem out of place — methinks more dating rumors are close behind. Ali Larter was there and showing off her bod in a sheath dress — hey, she's definitely got it. Julianne Moore, on the other hand, went for something a little less form fitting while Maggie looked great in winter white. Really though, I can pretend to care about the other people at the party, but I really want to know what happened with Lance and Ashley once they got inside...
To see more from the party including Jamie Burke, Piper Perabo, Lake Bell, Josh Lucas, Thandie Newton and many others just
Images include Ali Larter, Ashley Olsen, Francisco Costa, Jamie Burke, Jaquetta Wheeler, Josh Lucas, Julia Restoin-Roitfeld, Julianne Moore, Lake Bell, Lance Armstrong, Maggie Gyllenhaal, Piper Perabo, Sean Avery and Thandie Newton.