Asiana Airlines SFO Crash Landing
Fast Facts: The Asiana Airlines SFO Crash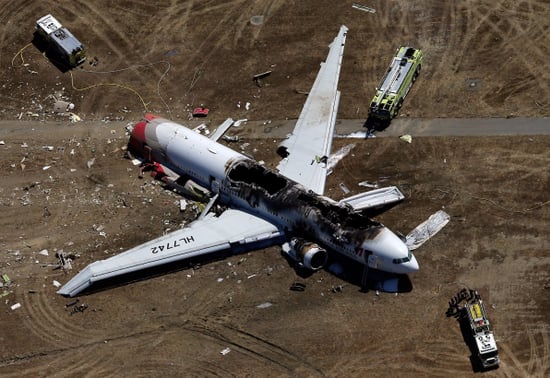 On Saturday, Asiana Airlines Flight 214 crashed while landing at San Francisco International Airport, and in the wake of the incident, more details have surfaced about the plane and its passengers. The Boeing 777 aircraft traveled from Shanghai, China, with a stop in Seoul, South Korea, before crash-landing in California. As the plane landed at SFO, the back end of the aircraft hit the rocky seawall at the end of the runway, breaking off the plane's tail and causing the entire plane to spin off the runway. As more details emerge, take a look at this brief rundown of the flight, the passengers, the pilot, and the aftermath:
The Flight
There were 307 people on board: 291 passengers and 16 crew members. Samsung executive David Eun was on board, and he tweeted a picture of the smoking plane immediately after the incident, calling it "surreal." Another passenger Benjamin Levy echoed Eun's sentiments, saying, "It was surreal. A lot of people screaming and not really believing what was happening to them. I wasn't believing it either."
The Crew and the Crash
In an effort to understand more about the incident, details about the crew and the aircraft are being investigated. The plane, built in 2006, was reportedly flying below target landing speed just before the crash, and 1.5 seconds before hitting the sea wall, the pilots tried to cancel the landing. Four pilots were on board, and Lee Kang-kuk was in the captain's seat. Asiana Airlines said that Kang-kuk has around 10,000 hours of experience as a pilot, including several flights from Seoul to San Francisco. It was his ninth time flying a Boeing 777, with 43 hours of experience at the model's controls, and Saturday's crash was his first attempt to land a Boeing 777 at SFO Airport.
The Aftermath
Some passengers were able to safely exit the plane after the crash-landing, but there were also several sent to the hospital. Of the 307 people on board, 182 were hospitalized, and two people died — 16-year-old Chinese girls named Ye Mengyuan and Wang Linjia, friends who were headed to a Summer church camp. The coroner believes one of them may have been run over by an emergency vehicle. Flights coming in and out of SFO Airport were canceled for a brief period on Saturday, and the airport is still not running at a regular schedule.