Awesome — Kellan Lutz on the Cover of Doggie Aficionado!
Another day, another Twilight cast member on a magazine cover, but this one is decidedly awesome. Kellan Lutz and his dog Kola posed for Doggie Aficionado, which is just too adorable. In the interview he talked about what adopting his pet has meant to him and what she has taught him over the years. Kellan has come a long way in his career and is looking hotter than ever — check out some highlights: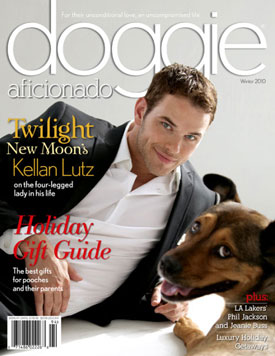 On adopting Kola: "I have always been a huge advocate for saving animals, so I found it fitting, when I was ready for something new in my life, to look around the local animal shelters. . . . She looked me in the eyes, bowed and slowly and softly licked my open hand. As I pet this beautiful dog I realized how soft her multi-colored coat was, and felt her desperation for a real home. Our connection was so strong that it was like fate bringing us together. I knew she was the one. That was three years ago."
On what he has learned from her: "Kola has taught me to be a man. I hope I have given her some deserved happiness."


If you can't get enough of the New Moon madness, check it all out on TwilightSugar.com!