BAFTA Stars Share Thoughts Over a Spot of Tea
The British Academy of Film and Television Arts held its traditional tea party at The Four Seasons in Beverly Hills on Sunday. Penelope Cruz, Kate Winslet, Toni Collette and Emily Blunt were just some of the stars who came out to sip on tea and nosh some English favorites like fish and chips wrapped in newspaper and cucumber finger sandwiches. The party-goers were in good spirits and willing to chat. Here's highlights: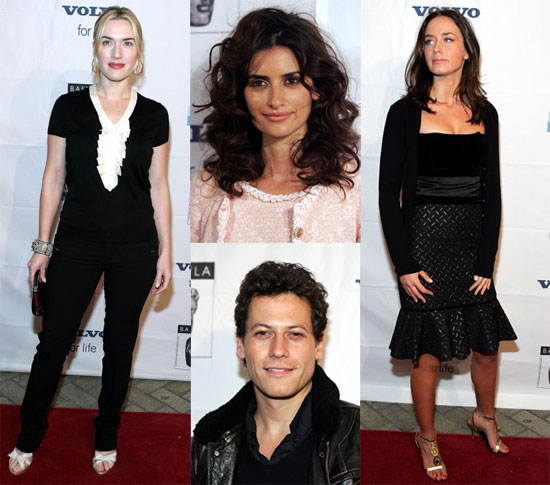 Kate Winslet called the many awards-season events "fantastic. I try and stay calm and keep my shoulders back."
Fantastic Four's Ioan Gruffudd was on the lookout for Winslet, with whom he (kind of) co-starred nearly a decade ago in Titanic. "I was the one with the flashlight pulling her onto the lifeboat as the ship went down," he recalled with a giggle.
Emily Blunt [who is nominated for Best Supporting Actress for The Devil Wears Prada] turned to her crooner beau, Michael Bublé, to quiet her jitters. "It's been my job to calm her down," said Bublé, as Blunt placed her hand on his shoulder.
Emily Blunt is barely recognizable without the red hair and brightly colored eye shadow she sported in The Devil Wears Prada. She has some stiff competition from Toni Collette, Abigail Breslin, and Jennifer Hudson but the one thing she does have over those three? She's British! Stay tuned for the winners - The show is February 11th. For more pics including Chiwetel Ejiofor, Adewale Akinnuoye-Agbaje, Ioan Gruffudd, Forest Whitaker, Michael Buble and more just read more