Bachelor Star Gia Allemand Dead
Bachelor Stars React to Gia Allemand's Apparent Suicide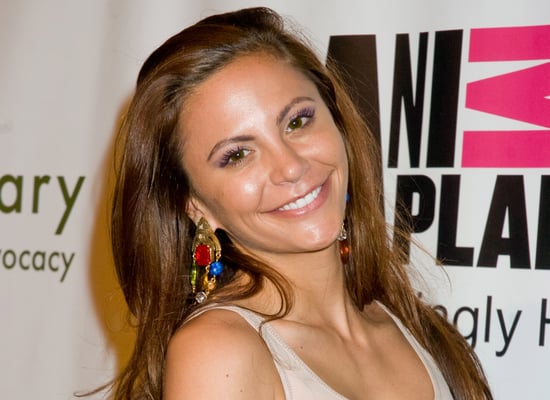 Bachelor star Gia Allemand has reportedly died today at 29 from "a serious emergency medical event." People reports it was an apparent suicide. Her family released a statement saying, "While in her residency in New Orleans on Monday night, Ms. Allemand was found by her boyfriend, NBA basketball player Ryan Anderson, following an apparent suicide attempt."
The model, who was a contestant on Jake Pavelka's season of The Bachelor and on Bachelor Pad, was then brought to University Hospital in New Orleans last night in critical condition. She was put on life support earlier today. Gia was well-liked by fans and fellow contestants for her sweet personality. Along with the show's host, Chris Harrison, Bachelor and bachelorette alumni have taken to Twitter to voice their sadness at her passing. Here are some of the immediate reactions.
It's with heavy hearts that we say goodbye to our good friend Gia Allemand. She will be loved and missed by all who knew her.

— Chris Harrison (@chrisbharrison) August 14, 2013
I had to pull over, I can't stop crying. We have lost an angel.

— Jake Pavelka (@jakepavelka1) August 14, 2013
I am just hearing this horrific news. I am in disbelief. My heart is breaking for my #BachelorNation family. I'm so sorry my little family 💔

— Jillian Harris (@jillianharris) August 14, 2013
@GiaAllemand my sweet little polly pocket. Your kind spirit has forever impacted my life. Thank you for sharing it with me. I am so sad. :(

— Michelle Money (@MoneyMichelle) August 14, 2013
:( lucky enough I got to hold you Gia pic.twitter.com/5XrDcqkexe

— William Holman (@WilliamFHolman) August 14, 2013
Keep reading for more Bachelor nation tweets.
My heart is so heavy right now, I remember meeting you for the first time & the huge smile on your face. You are in my prayers @GiaAllemand

— Jason Mesnick (@jason_mesnick) August 14, 2013
Very SAD to hear the NEWS on @GiaAllemand... RIP and PRAYERS to the family... 💔

— Juan Pablo Galavis™ (@JuanPaGalavis) August 14, 2013
Such heartbreaking news today about @GiaAllemand passing. Praying for her friends and loved ones.

— CatherineGiudiciLowe (@clmgiudici) August 14, 2013
Very sad to hear about @GiaAllemand. Give your family and friends extra big hugs today and remind them how much they mean to you.

— Ashley Spivey (@AshleySpivey) August 14, 2013
The only time I wasn't smiling around this girl is when we were faking it. My heart aches.. #RIPGia pic.twitter.com/hnEPZJTOfS

— Chris Bukowski (@chrisjbukowski) August 14, 2013
Gia you are my angel! You changed so many lives with your beautiful soul and will be missed and loved forever.

— Vienna Girardi (@ViennaGirardi) August 14, 2013
My prayers go out to @GiaAllemand 's family during this time. Life on earth is but a vapor and she's with our Lord now.

— Sean Lowe (@SeanLowe09) August 14, 2013
So incredibly sad to hear the news. Love and prayers go out to Gia's family and friends.

— Desiree Siegfried (@DesHartsock) August 14, 2013
I love you G.

Life is too short. Don't ever take it for granted.

— Jaclyn Swartz (@JaclynSwartz) August 14, 2013
I'm speechless and heartbroken over the news of @GiaAllemand's passing. My prayers are with the Allemand family and those who knew her.

— Sarah Herron (@sarahherron) August 14, 2013
My prayers go out to @GiaAllemand family. In shock right now. Was a blessing to call her a friend. :(((

— David Levi Good (@DaveLGood) August 14, 2013
Can't wrap my head around this news and that I was supposed to see Gia today. She was truly amazing and I'm lucky to call her a friend!

— Peyton Lambton (@PeytonWLambton) August 14, 2013
In totally shock..Heart breaking. You were so loved. And always will be. @GiaAllemand Prayers and prayers and prayers to family. :(( sad day

— Kasey Kahl (@KaseyRKahl) August 14, 2013
My prayers go out to @GiaAllemand and her family... I am so sorry for your loss. #heavyheart

— Lindsay Yenter (@YenterLindsay) August 14, 2013
We lost an incredible human being today. @giaallemand http://t.co/Sl5vTfCQ1w

— Ali Fedotowsky-Manno (@AliFedotowsky) August 14, 2013
The world has lost a truly kind and beautiful soul today. @GiaAllemand

— Chris Lambton (@ChrisLambton13) August 14, 2013
Such a sad day...love, prayers, and thoughts to Gia's family and close friends :(

— Molly Mesnick (@MollyMesnick) August 14, 2013
Gone to soon. @GiaAllemand we will see you again......

— Graham Bunn (@GrahamBunn) August 14, 2013
I will miss you Gia, you were an awesome woman and I thank God I got to be part of your life if only… http://t.co/FsoN6xCW7C

— wes hayden (@wesleyhayden) August 14, 2013
"May the Lord of peace himself give you peace at all times and in every way." -2 Thessalonians 3:16 @GiaAllemand 💔

— Holly Julian (@HollyDurst) August 14, 2013
Sad to hear @GiaAllemand passing. Thoughts & prayers go out to loved ones, family members, & all that were close to her. God got an angel.

— DeAnna Stagliano (@DeAnnaPappas) August 14, 2013